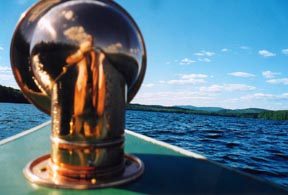 A fine day for an excursion aboard SL A Boy's Will on McWain Pond, Maine

last updated 31 OCTOBER 2019

Contact me via email for more information or call (207) 583 6957 eves (east coast USA)

If you like this stuff and want to know more about steamboats
subscribe to Smokestack Magazine and visiting their website

at http://www.northamericansba.org or click the logo below

tell them that Earl Morse sent you



"A boy's will is the wind's will,
And the thoughts of youth are long, long thoughts."
from the poem, "My Lost Youth," Henry Wadsworth Longfellow's
thoughts about his boyhood in Portland, Maine
Dreams of steamboats are those of men who have always been kids
Every once in a while a dream is caught and a flame burns brightly
the continuing saga of the steamboat "A Boy's Will"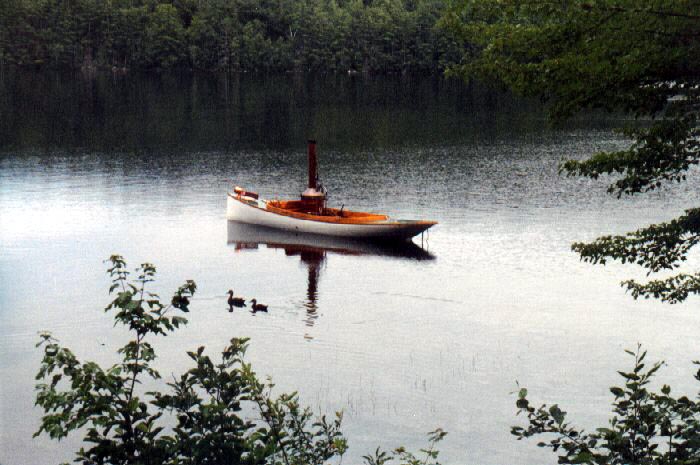 I have started an archive page for some of my older pix and videos.
click here to jump to the steamarchive
---
Equinox: for more about this exquisite craft. See Steam Happens, Appendices 25 and 26 below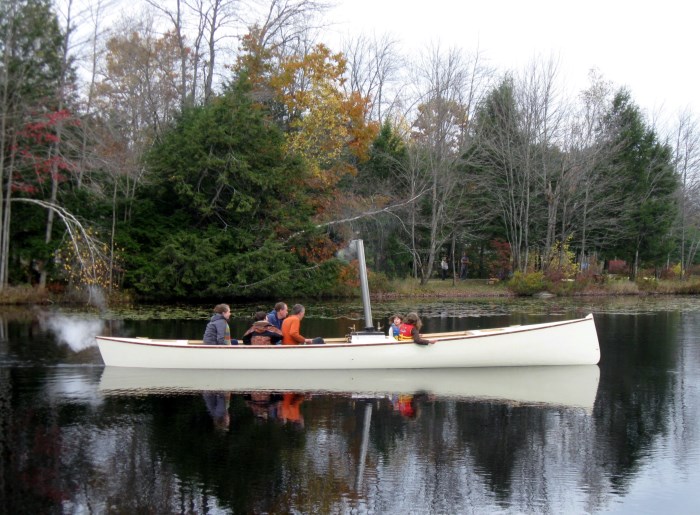 Will Weidner, Equinox's creator, has graciously contributed a simple to use dynamic spreadsheet for designing D or piston valves. Feel free to download and use the attached file. Simply click here to download the file. It can then be viewed in MS-Excel, OpenOffice or any software that can handle an .xls file. Once the file is opened just change the input values to determine how the changes you've made influence the valve's performance. It's great for new engine designs or tweaking your current engine for peak performance. Here's Will's description of its use:
"The Spreadsheet "VALVGR2.xls" is a useful tool for designing a slide valve for eccentrically driven valve gears. A lot of engine plans may have a slide or piston valve designed by the seat of the pants, but when the analysis is done, it can be seen that a lot of improvement can be made. A huge increase in economy can be the result. When the valve on an existing engine is optimized, it seems like the engine driven feed pump suddenly has an increase in output. Of course lower steam consumption is the reason for this. It will also seem like the boilers' appetite for wood is greatly diminished.
Using this spreadsheet allows you to make changes to valve parameters (valve travel, advance angle, admission and exhaust lap) and immediately see the effect on valve events. It allows you to do is adjust the admission lap and exhaust lap separately for both the forward stroke (top of piston) and return stroke (underside of piston). This allows you to compensate for the non-uniform motion of the valve vs. piston position due to the connecting rod angularity error. Uniform valve events for forward and return strokes are the result. That's why there are pairs of input numbers for admission and exhaust lap. Try putting the same numbers in for each to see the angularity effect.
This spreadsheet has limited use for linked-in Stephenson motion because it requires you to know the eccentric throw and advance angle. It is very useful for Stephenson in full gear, or slip eccentric valves. Stephenson gear that is linked-in has a "virtual" throw and advance angle, but they are hard to determine analytically or graphically. They can be determined on the engine by linking in the gear to the desired position. Then measure the valve travel with indicator or calipers while turning the engine over. Note the crank pin angular position from TDC or BDC when the valve is at its extreme position. Subtracting this angle from 90° will give the advance angle."
---
---
The Lee's Mills Annual Steamboat Meet
is held in September each year
FROM THE SECOND SATURDAY THROUGH THE THIRD SUNDAY
a total of 9 days
Moultonboro, NH
(sometimes spelled Moultonborough. After all, this is New Hampshire!)
Follow signs to the Loon Center and continue about 2000 feet to docks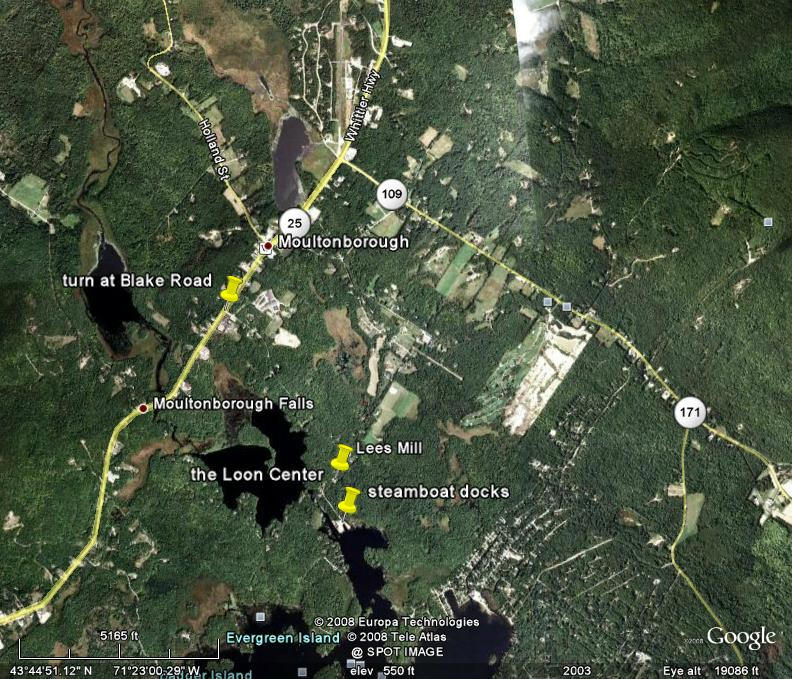 Show up during this session and ride some great steamboats FREE!
*************************************************
Pictures from the 2015 Lee's Mill Meet
Click on the image below to view a slideshow
(problems with a cheap SD card failure, my camera, and limited Sunday boat parades caused a loss of most of my pix and videos)
(fortunately, SL Hope's Exec Officer, Michelle Salisbury, has given me permission to include her pictures, including the one below)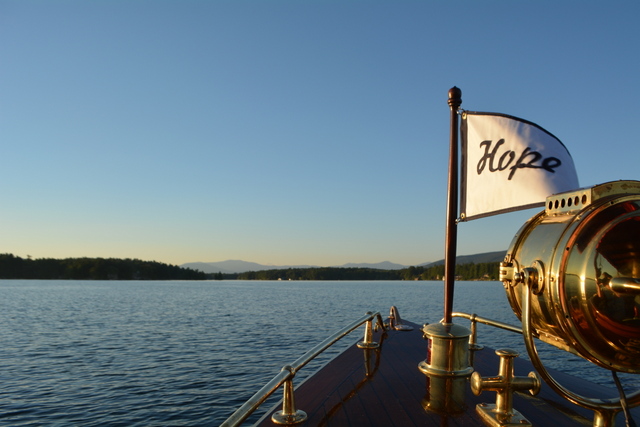 *************************************************
Click on the picture below to view the steamboat parade September 15, 2014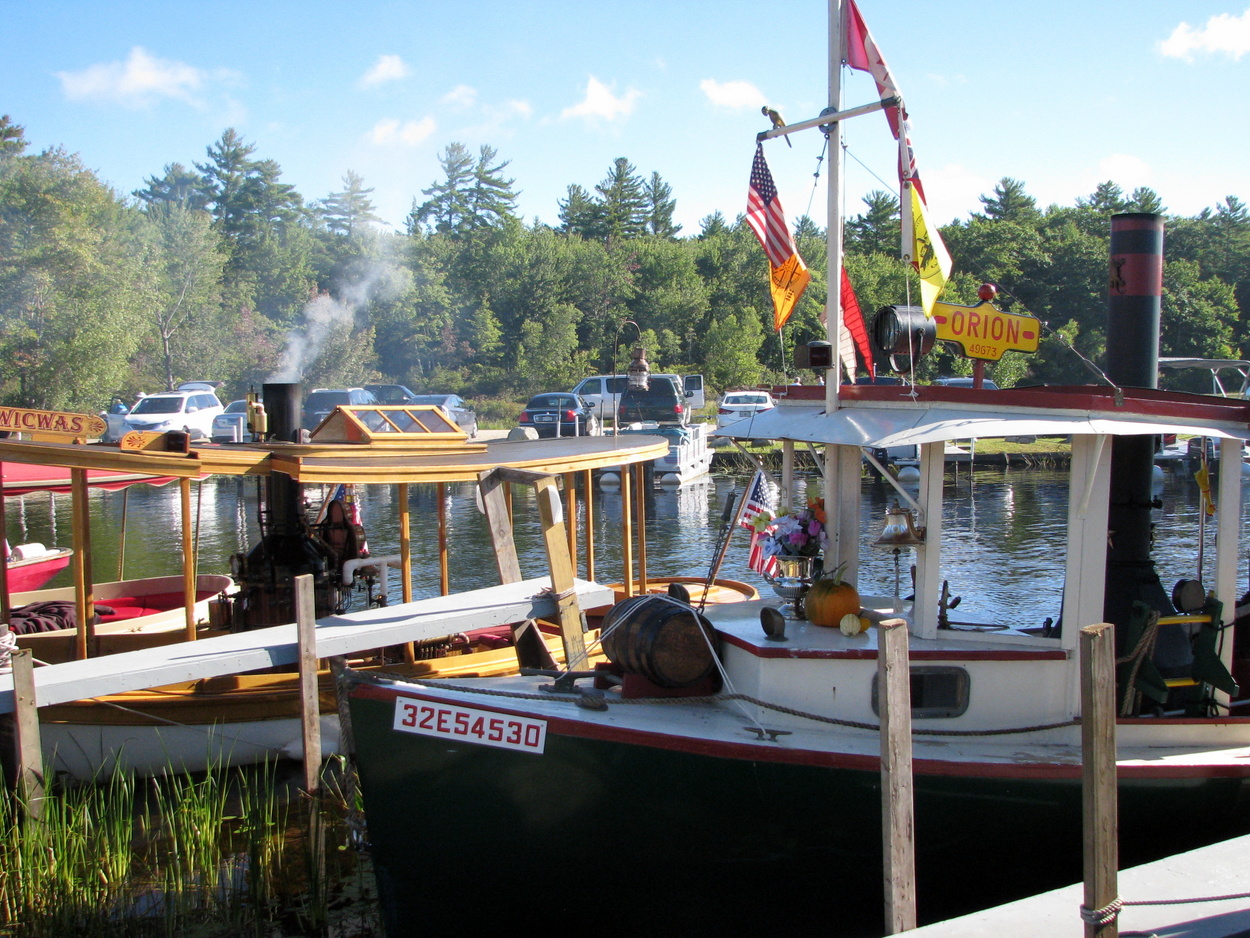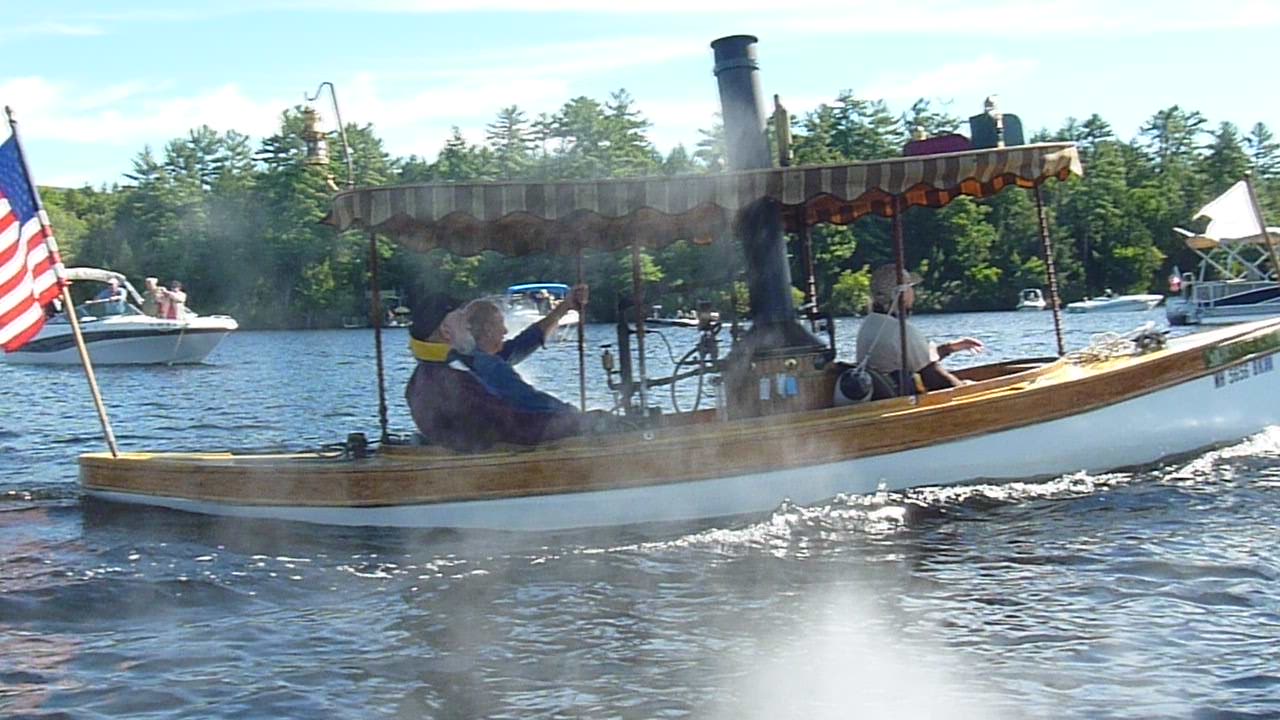 click on the above picture for a video of the 2013 Lee's Mill steamboat parade
---
Click on picture below for a few pictures from the 2012 Lees Mill Steamboat Meet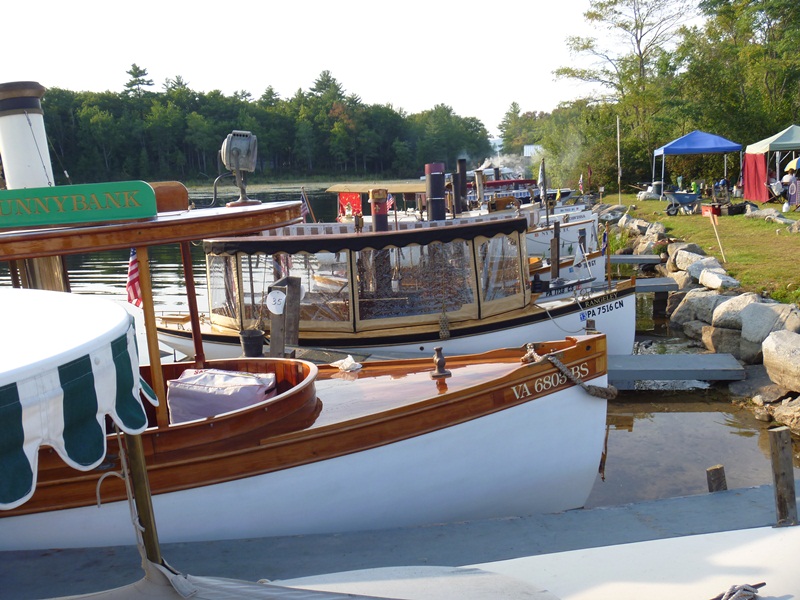 ---
A couple of pictures and a short video from the Lees Mill Meet, September 2011
The Lees Mill Meet is held during the second week in September each year, from weekend through the following weekend. See you there!
Heavy traffic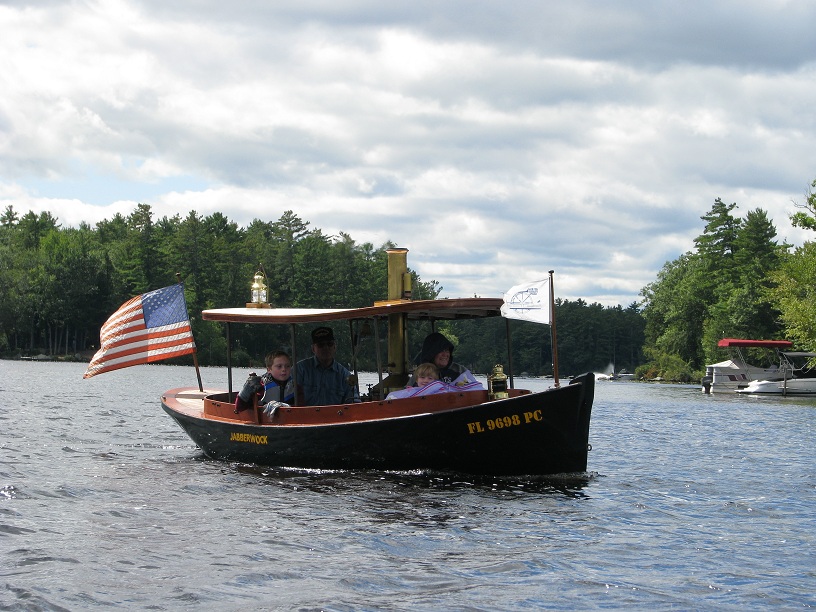 Those Florida folks just don't appreciate a warm September sunny day in New Hampshire!
Can't start em too young, though
click on either of the above pictures to view video
---
some of my own stuff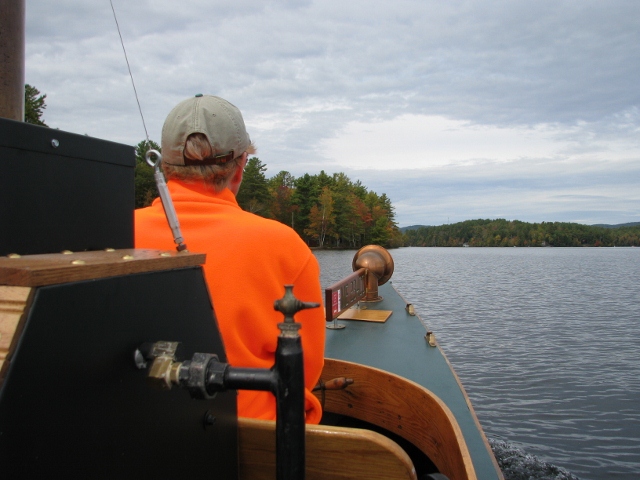 Click on the above photo to take a early fall foliage cruise on SL "A Boy's Will" with our new boiler and a balanced D valve
---
Finally revised my model hybrid turbine-electric prototype
to see the video click on the photo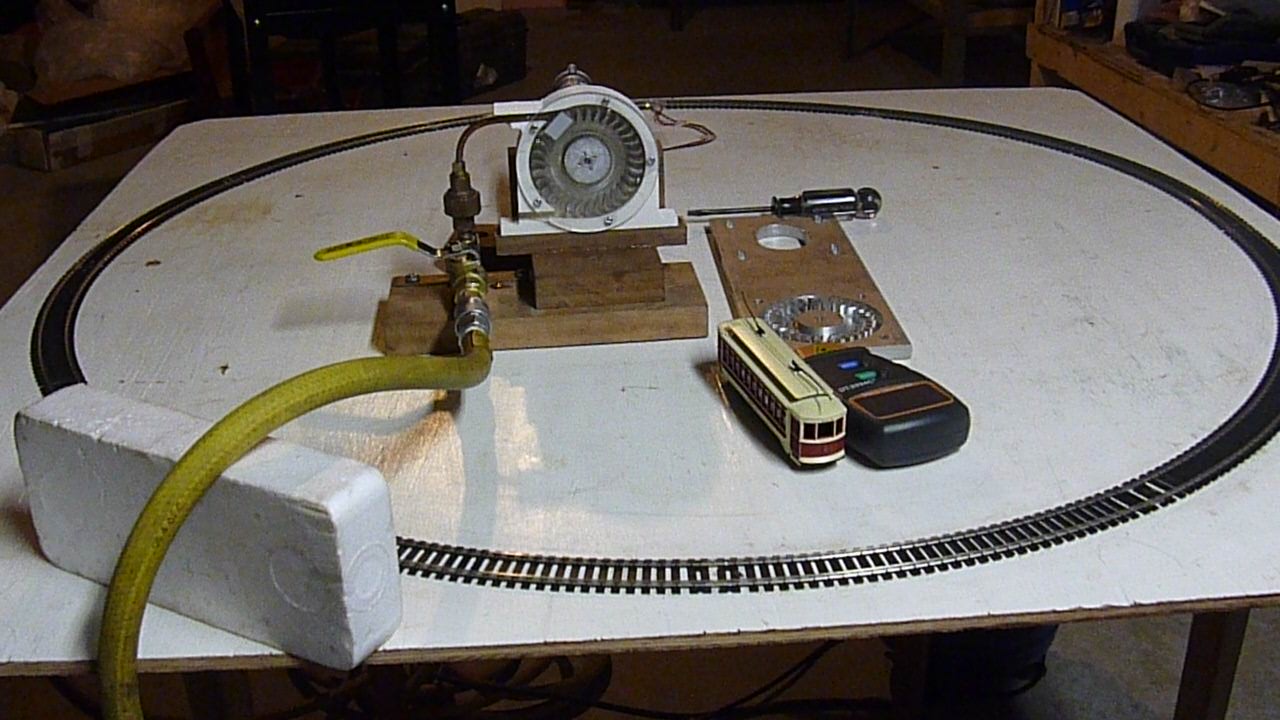 ---
Gabrielle and Bob Wallace
Host a Live Steam Meet and Pot Luck Supper
at their home the third Saturday In May each year
157 Old Route 109 in Moultonborough
call them at (603) 476 5685 for more information about the next meet
Click here to view a YouTube video of the Wallace's May 2011 meet
and click here for a video from the 2012 meet
and here for the 2015 meet video
and here for the 2016 meet video
Click on the image below to visit the Wallace's May 22, 2010 meet in Moultonboro, NH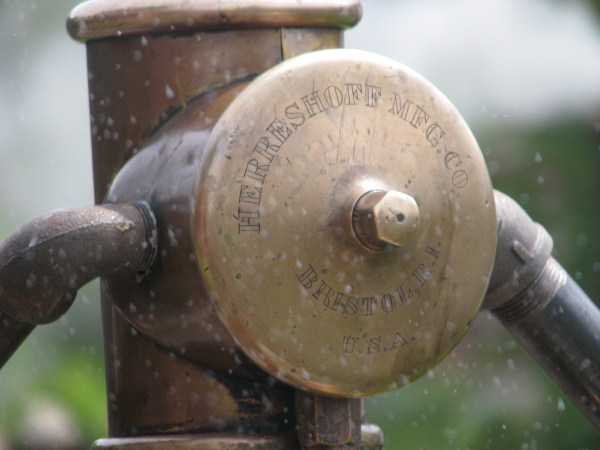 ---
Take a cruise on the Rhine with Helmut Strothjohann and the Vaporosa
Battle the current and heavy commercial traffic. See if you can spot the naked old man!
(this is from an old analog video I took in 1995)
Click on the photo below to view 15 minute video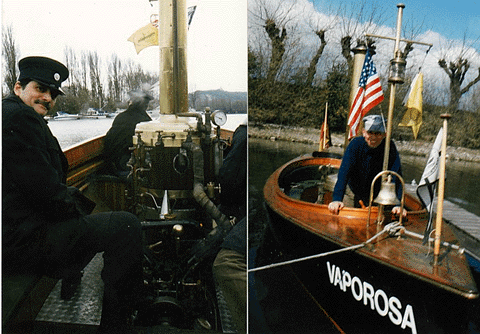 ---
If you haven't already subscribed to Steamboating Magazine you can do so by clicking here
tell them Earl Morse sent you
Many of my "Steam Happens" articles have a supplement below.
Each supplement expands on the article and/or shows greater photo detail
SUPPLEMENTS TO MY STEAM HAPPENS ARTICLES FROM STEAMBOATING MAGAZINE::
Steam Happens #2, Engine choices
Steam Happens #4, Putt-Putt Boats
Steam Happens #5, Quick Winterizing
Steam Happens #6, Building a clutch
Steam Happens #10, RPM meter and alignment
Steam Happens #12, Concept Model of a New Engine
Steam Happens #13, The Rise of The Derelict
Steam Happens #14, On-Going Saga of the Carrie-Jean
Steam Happens #16, Rick Blackham's RC Mini Tug
Steam Happens #18, Two Boats, Two Visions A World Apart
Steam Happens #19: The Swash Plate-Axial Steam Engine
Steam Happens #20: Donnie Mains Builds a Steam Canoe
Steam Happens #21: Carl Kriegeskotte Puts the Screws to a Significant 1804 Leap of Technology
Steam Happens #22: A Model Steam Turbine Evolves
Steam Happens #23: Modifying a D Valve for Balanced Operation
Steam Happens #24: Building a New Roberts-Type Boiler
Steam Happens #25: Equinox: The Evolution of an Elegant Edwardian-style Fast Commuter
Steam Happens #26: Evolution of Equinox's Hull (parts one and two)
Steam Happens #27: "D" Valve Tweaking and Steam Consumption
Steam Happens #28: My Latest Experiences With Balanced D Valves
Steam Happens #29: The Resurection of Hope
---
SEE STEAM HAPPENS #19 (ABOVE) FOR MY TAKE ON A SWASH PLATE ENGINE
At Cabin Fever January 2008 I met with Joe Ritter, a very clever engine designer from Mt. Airy, MD
Joe presented a new engine he designed which he calls a Pogo-Stick.
He also displayed his 6 cylinder, single-acting swash plate engine that I'd love to see scaled up for a full scale boat.
The use of a swash plate, the radial arrangement of the pistons and the direct alignment with the prop shaft would make this an ideal small power unit.
Click on the photo below for more details and movies of the engine in operation.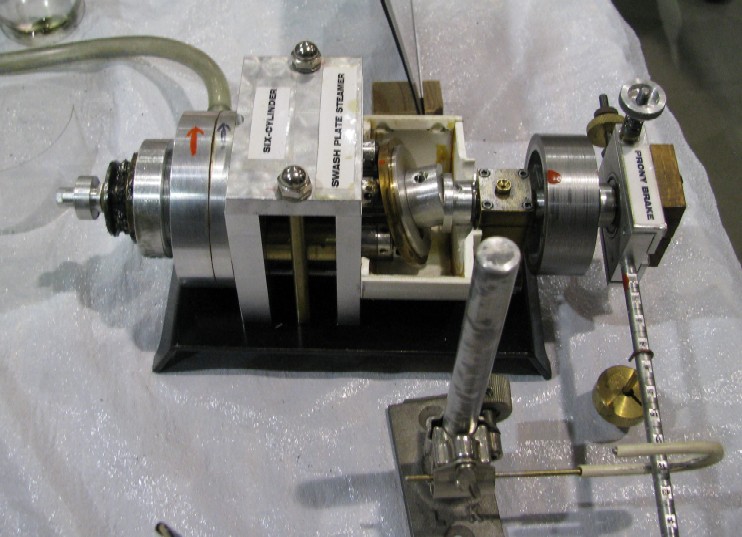 Here's a photo of Peter Renzetti's Swash Plate engine
This one uses a shaft-ported valving, much as used in 2-stroke model airplane engines.
In the picture below the pistons are all retracted. When pressure is applied they each move to contact the swash or wobble plate.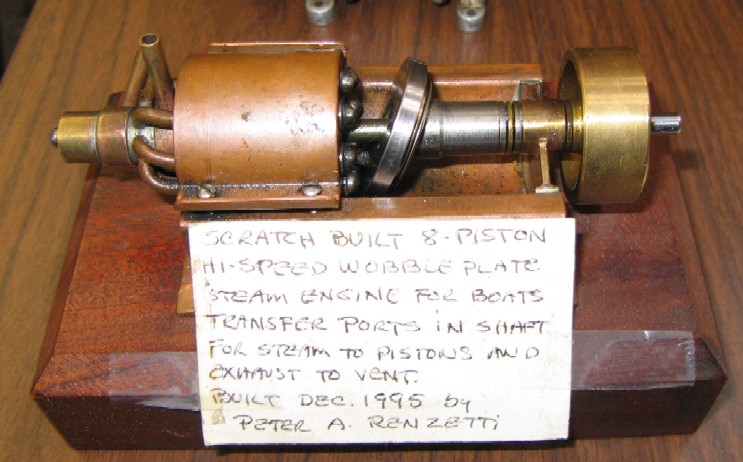 Here's a rough diagram of Peter's valve porting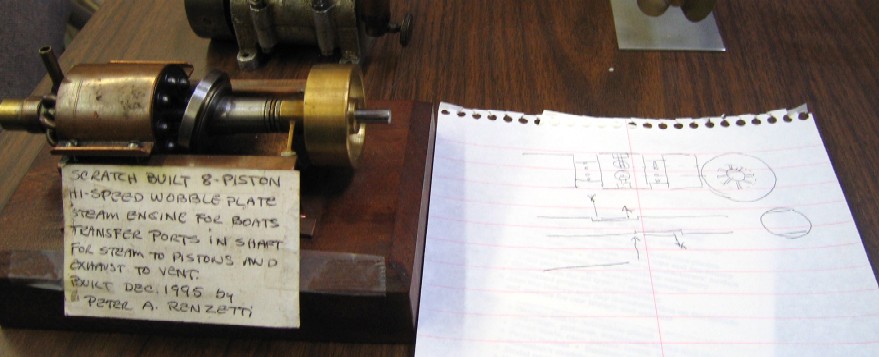 * * * * * ** * *