Tanzania Seven's
47th Anniversary
at the 50th Anniversary of the Peace Corps
Washington, D.C. 21-25 September 2011
ver 12 Sept 2020
Our Teachers for East Africa group trained at Teachers College, Columbia University, from Sept - December 1964.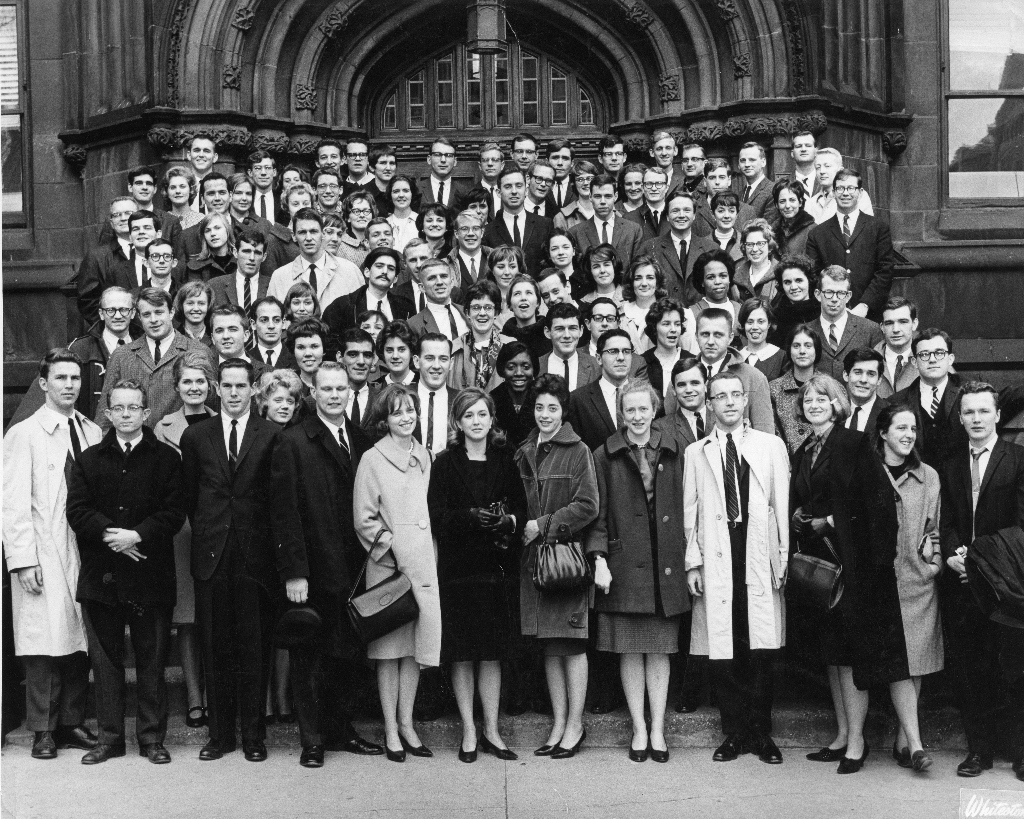 Our Teachers for East Africa group on the TC steps prior to attending the Dinah Shore Show
HERE'S A PHOTO WITH NUMBERS (generally under chin) TO HELP US REMEMBER ALL THE NAMES: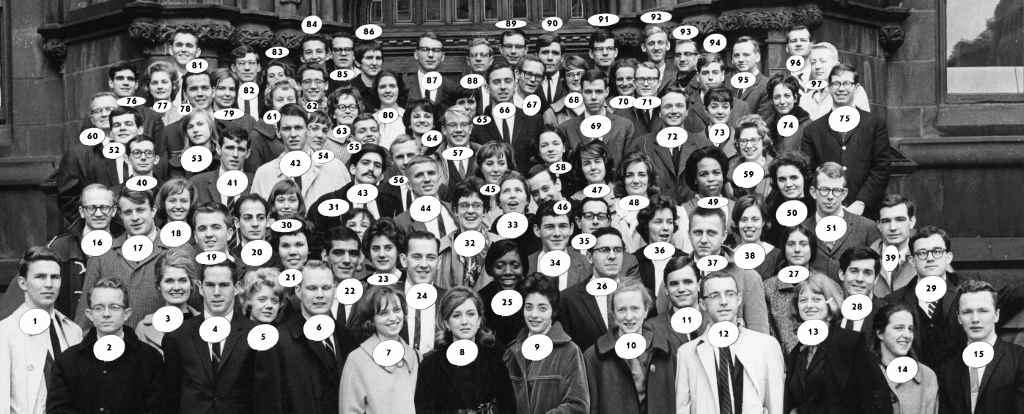 Names will appear below as they become available. Modified a/o 09/04/2020
1. Barry Wakeman
2. Samuel Vick Smith (Sam)
3. Sharon Lee Moore
4. Michael Glenn Willingham (Mike)
5. Jeraldine Jo Markee Van der Top (Jeri Jo)
6. Barry James Quimby
7. Joel Howard Shaper
8. Marion Markell McAdoo Goldwasser
9. Judith Ann Koerner (Judy)
10. Helen Coit Means Armstrong
11. Donn Fry
12. James Clyde Armstrong (Jim)
13. Ellen Cook Moore
14. Lee Geisen
15. Edmond Arthur Mayhew (Ed)
16. James Russell Petricka (Russ)
17. Michael John Stringer (Mike)
18. Bette Watson Merchant
19. Robert Edward Flannery (Bob)
20. Alan Carnig Alemian
21. Shirley Elaine Eklund
22. Elias David Meena (Dave)
23. Susan Ladd Folsom (Sue)
24. Robert Ben Thompson (Bob/RB)
25. Bettye Lou Owens
26. Alan Edward Mussell
27. Ann Elizabeth Sunderlin (Liza)
28. David Maurice Rudenstine
29. Joseph William Winkelman (Joe)
30. Barbara Louise Anderson Ratigan
31. Joanne Frances Collins Morse
32. Susan Davy Boardman
33. Nancy Ethiel Gheesling
34. Stephen Glen Poland
35. S. James Rosenfeld (Jim)
36. Marilyn Ann Pierce Rosenfeld
37. Edwin Dennis Arnott
38. Katherine Englisbee Hughes Swennes (Kathee)
39. William Frederick Seifert, Jr. (Rick)
40. Lyn Ray Musselwhite
41. Michael Moran Farrin (Mike)
42. John Russell Ratigan
43. Earl Michael Morse
44. Leroy Richard Rader (Richard)
45. Nora McMahon
46. Lance Ronald Sobel
47. Katharine Anne West (Kathy)
48. Irene Ophelia Hite Paasch
49. Chetera Gayle Ingram Watson (Terri)
50. Shirley Isabel Scott

51. Diarmuid Russell McGuire ("D")
52. Robert William Turner
53. Merle Deborah Rubin
54. Joanne Zywna
55. Robert T. Scully (Bob)
56. Marlin G. Fried
57. Terry Platt
58. Rita Marie Byrnes
59. Beverly Lillian Amundsen McCoy (Bev)
60. Darrell William Opfer
61. Sandra Jo Lesourd (Sandy)
62. Robert Willard Tobey (Bob)
63. Jane Braham Bell Arnott
64. Elaine Oprisko Stainburn
65. Rebecca Lee Smith (Becky)
66. John Hill Oliver
67. Dennis Duane Sugden
68. Judith Ann Bock Fightmaster
69. Arthur A. Moore (Art)
70. Mary Louise Shanley (Nancy)
71. Gerald Leo Rigler
72. Walter Brigadier (Walt)
73. Jacqueline Marie Swartz
74. Rose Lila Levine Levinson
75. John Thomas Patterson
76. Waldo Cory Melrose Johnston (Waldie)
77. Cherry Dauce Pratt Kirkpatrick
78. Peter Harold Reid (Pete)
79. Lowell Belin Winkelman
80. Wanda Olive Gilbert
81. Vance Crawford Kirkpatrick
82. Roger Lee Harm
83. Margaret Johnston de Boisblanc (Peggy)
84. Martin Schlansky
85.

William Raymond de Boisblanc


86. Margret Anna Arnold Bromley
(Peggy)
87. Paul Allen Rowgo
88. George Ulrich Paulding, 3rd (Bud)
89. Bruce Alan Jones
90. Vincent Eugene Barry (Vinnie)
91. Susanne Marie Gibbs Eves
92. James Arthur Wilson
93. Murray Hopper (Murf) Smith
94. Henry Schoenfeld
95. Russel Pealer Breyfogle, Jr. (Russ)
96. Jerry Neal Selness
97. Dwight Alan Yates

No pictures for:
Steve Hammer, Susan Moss, Terry Platt, David Wayne Tucker
Email me mailto://E_J_Morse@roadrunner.com with corrections or comments
Here are a few pictures from our experience at Same Secondary School (Boys) 1965-66.
More may be added as we uncover them in our attic.
Ambassador's beach party Dar es Salaam 1964

Robert Wingfield, PC and Elizabeth Abraham, Larry Harris, Earl,
Jeannie and Jeff Fadiman, Russ Petricka, Dan Hogenauer

Earl at Olduvai

Earl and Scott on school safari-photo credit Paul M'ganga

Earl and students - photo credit Paul M'ganga

Earl (sans moustache) and Joanne in garden

Joanne and students

Earl and Joanne on steps of house in Same, Tanzania

R B Thompson, Steve Hammer, Joanne Zywna,
Joanne Morse at r.r. station Dar or Tanga

Scott Wallace trying to look untasty in lion country

Scott Wallace and Robert Wingfield on M'lima Cha Mbogo

Mr Myombo, Scott Wallace, Rod Dixon, Mr. Moshi awaiting President Nyerere's arrival at Same School
Click here to view Peace Corps 50th Reunion, Washington DC, September 2011
and an album of Earl's pictures from Tanzania Seven's 47th year reunion