READ OUR OLD NEWS ARTICLES HERE
***************************************************************************************
2013
Yup, it's Spring again
The days are warm, bright and sunny
and the nights are still cold
So the sap's running
all the way upta the SUGAR SHACK
TO GET SOME OF THAT
BUBBLIN BROWN SUGAR
(now keep ya mindz outta the gutta here!)
Maple syrup and ice cream offered free at the door,
topped by the smell of the boiling sap, the steam and the burning
wood fire. Spring in Maine has been the same for ever.
All I can say is that it's "Wikkid Pissah"
We also had
Trips out of state to visit friends and relations, Joanne singing, dancing, and volunteer teaching, Earl working to keep tar sands oil out of the Crooked River in Waterford, building steam stuff, and volunteer teaching, Kept us pretty busy.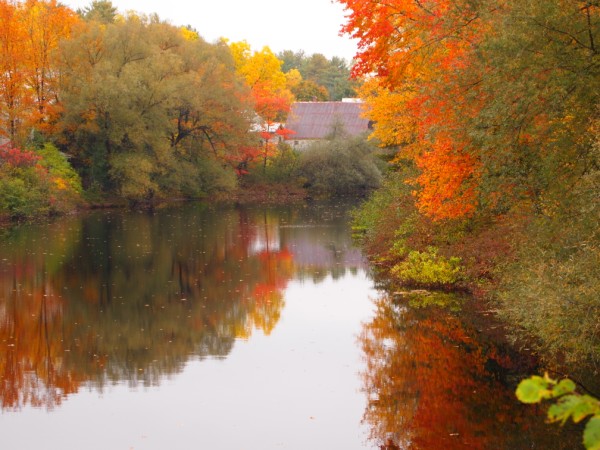 Check out some of the other sections because there may be some new stuff there
***************************************************************************************
SPRING 2012 NEWS
BRUCE AND CHERYL WILL BE
IN THE LOFT STUDIO MID JUNE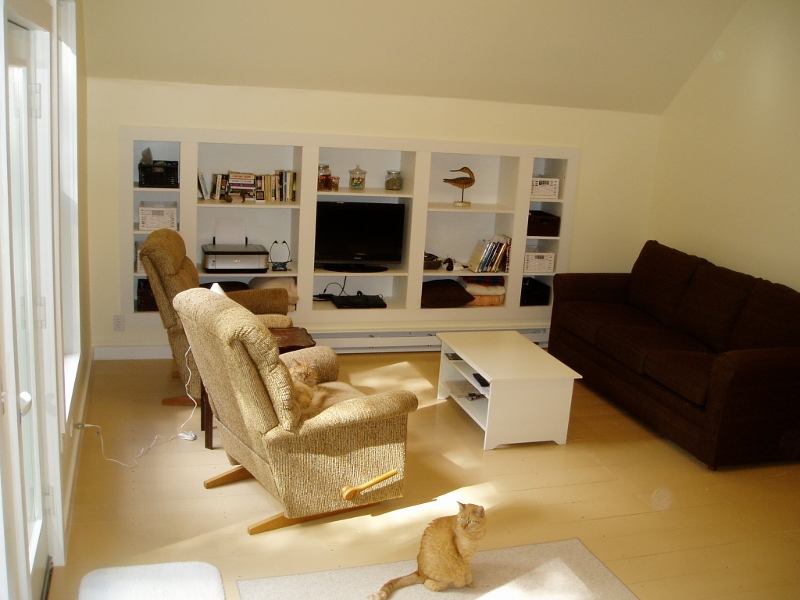 Joanne has started a Dickens discussion group
click on picture to read full article from The Sun Journal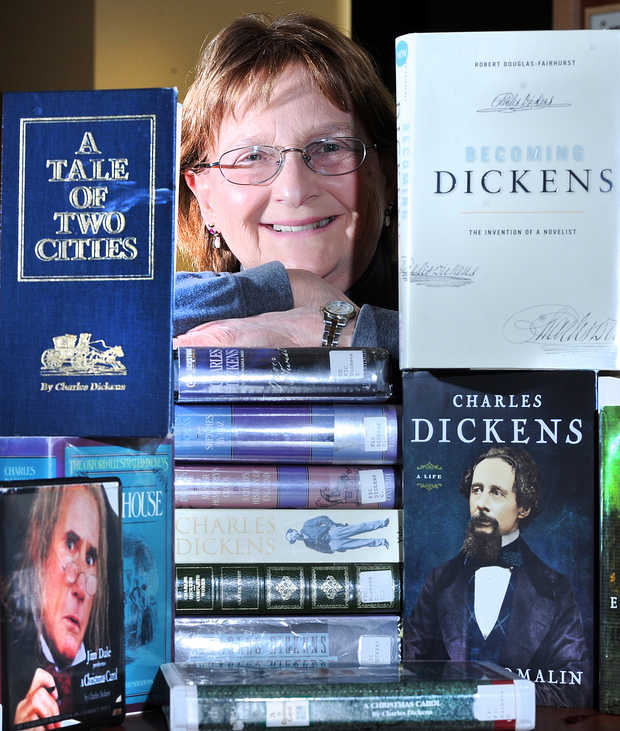 Baby Sarah celebrated her first birthday.
She was in awe of the candle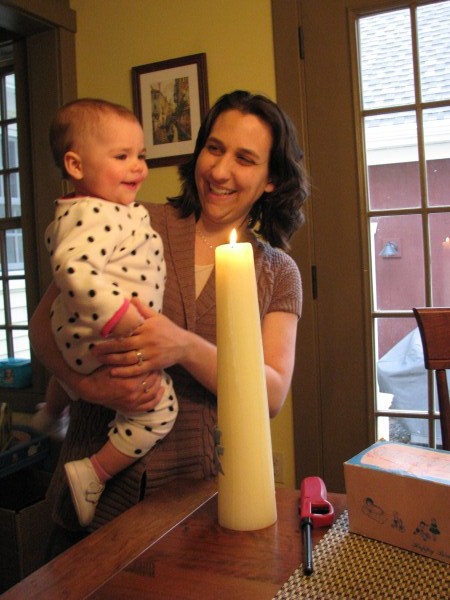 **********************************************************************************************
WINTER NEWS 2010-11
! ! Announcing the Arrival of
Sarah Johanna Morse
on February 7th!!!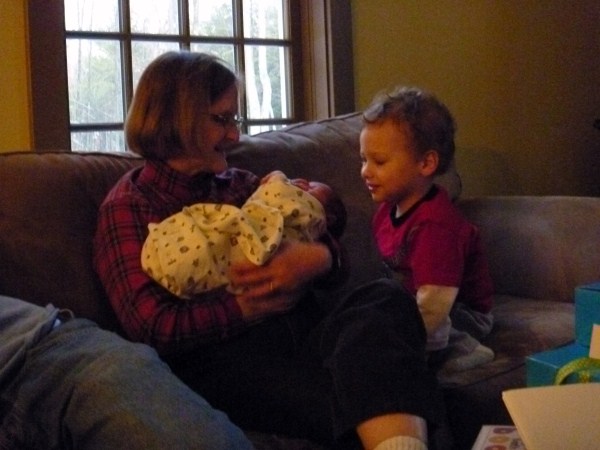 THAT MEANS MATTHEW
HAS BECOME A
BIG BROTHER . . . Yipee!
(but, judging by his enthusiasm for
Adam & Carly's baby, Becca)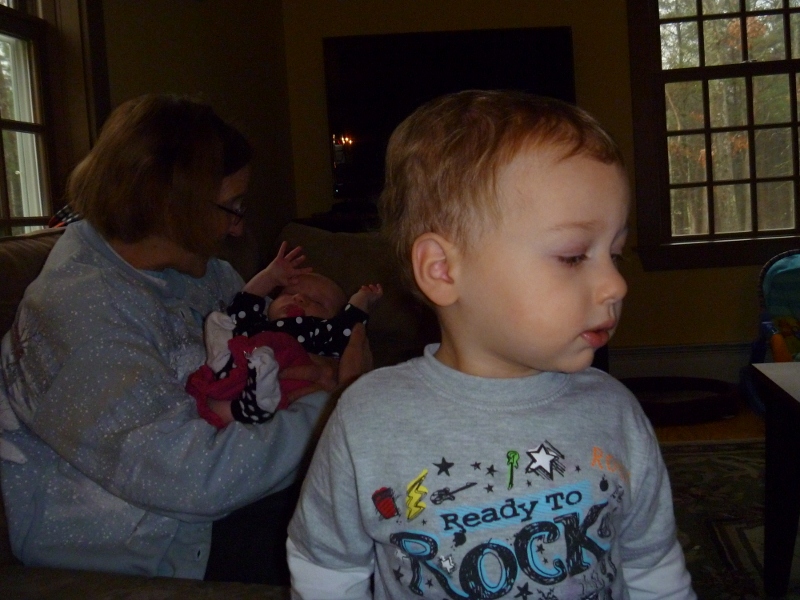 IS HE READY?
* * * * * * * * * *
also
Kamehameha IV
Birthday Luau Cancelled Again!
Once again we have to
Inform you that this grand event
has been cancelled for the 8th
consecutive year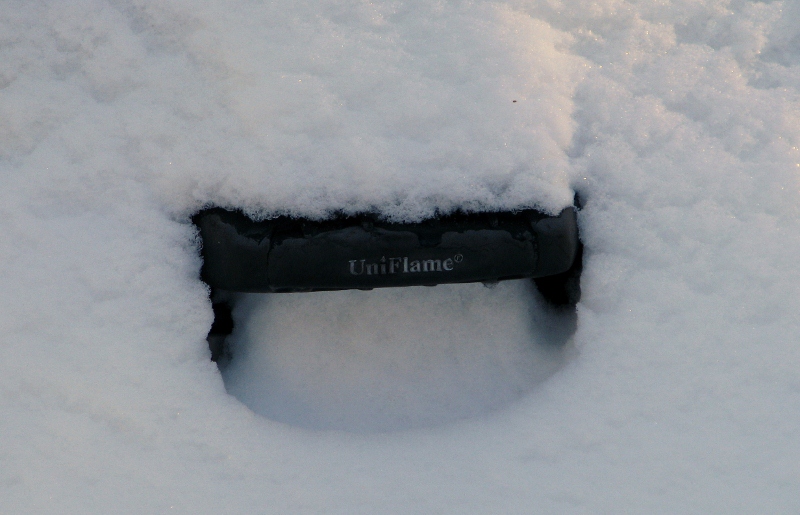 I'm starting to think that maybe we should
move the event from 9 February, His Highness' real birthday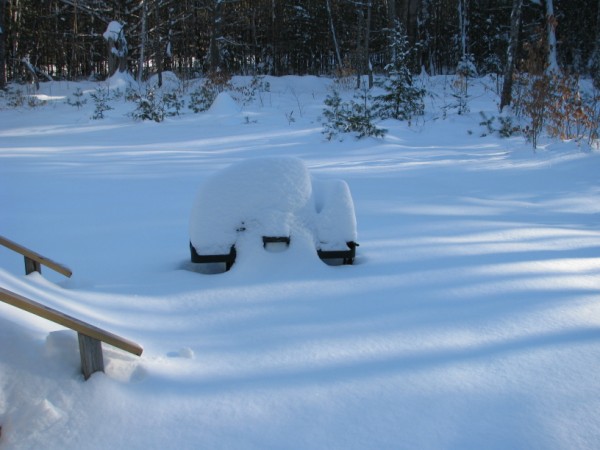 Besides, we can't seem to find the pig!
* * * * * * *
---
BRUCE AND CHERYL (almost) FINISH
THE LOFT STUDIO AND MOVE UP
FOR THE SUMMER (2010)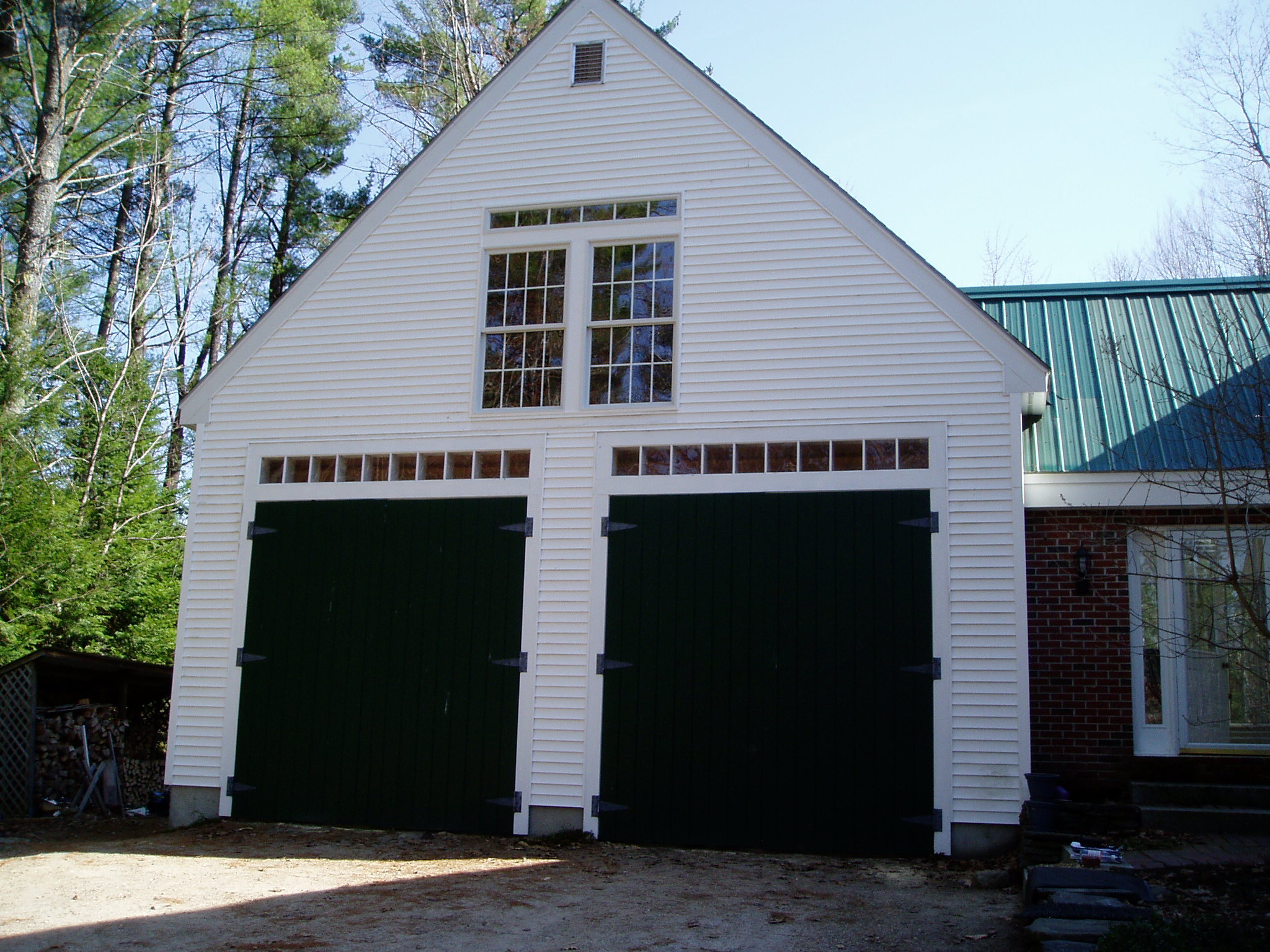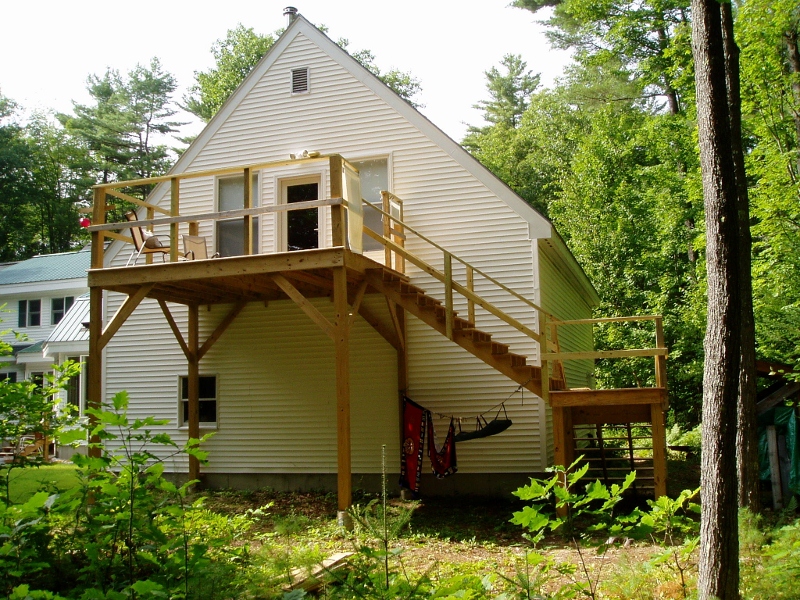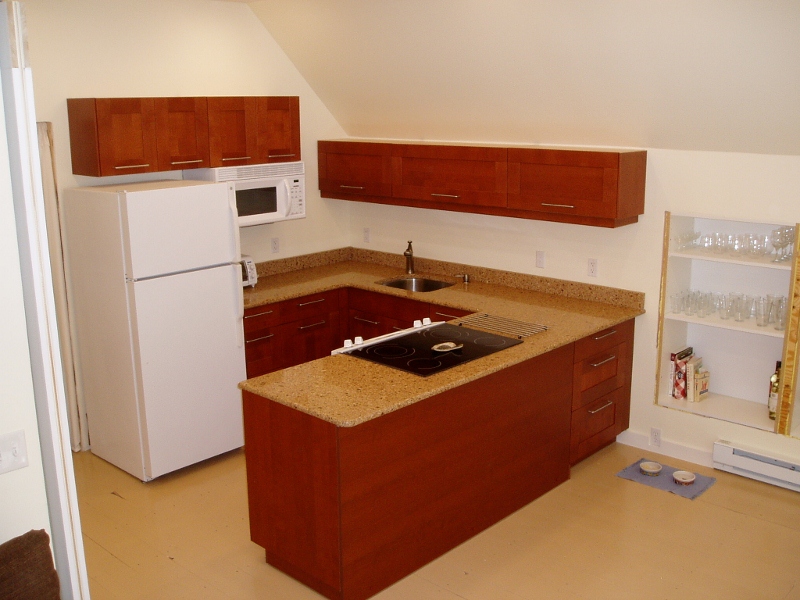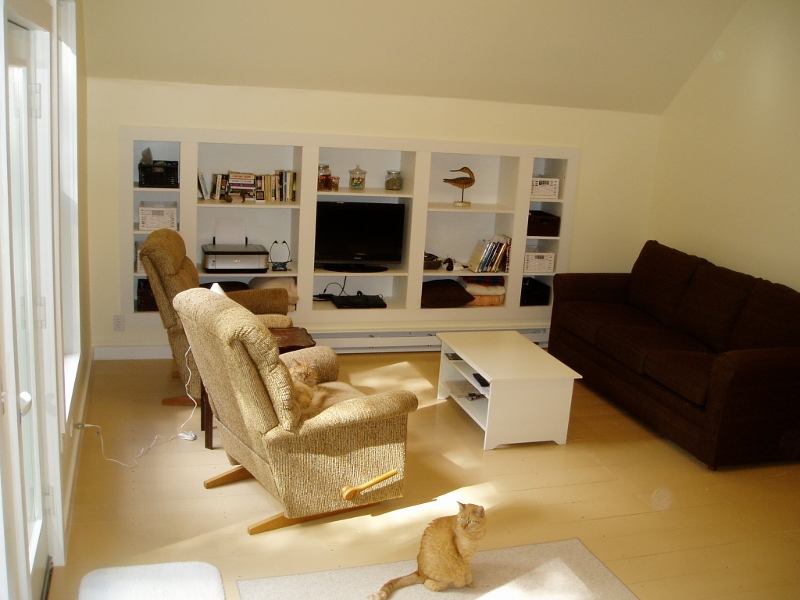 ---
Matthew is now nearly 2 and a half years old there are lots of pictures of him on his web page!
At 8:50 p.m. on September 10th, a new Morse entered this world.
His name is Matthew Isaac Morse and his initial weight was 8 pounds
That's about 3.6 kilos
Here's a couple of pictures for those folks who'd like to see the little guy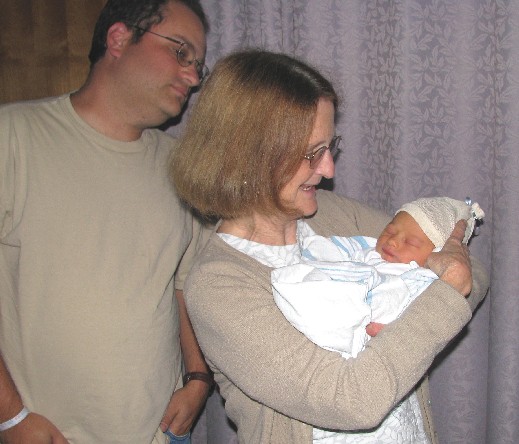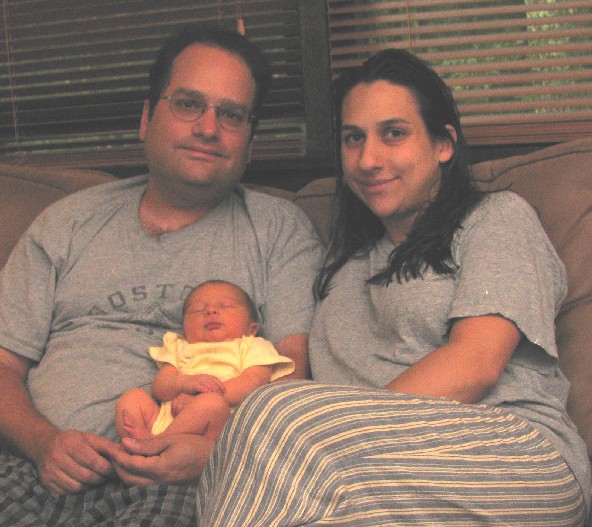 There will eventually be lots of photos on his web page...
Sooo...if you click on any of the above pictures you will eventually be able to see more.
We are very proud of our wonderful daughter-in-law, Laura, for pushing Mat into our world.
It wasn't an easy delivery for her, so let's give Laura a hand!
Nic is taking his Daddy role pretty seriously, too.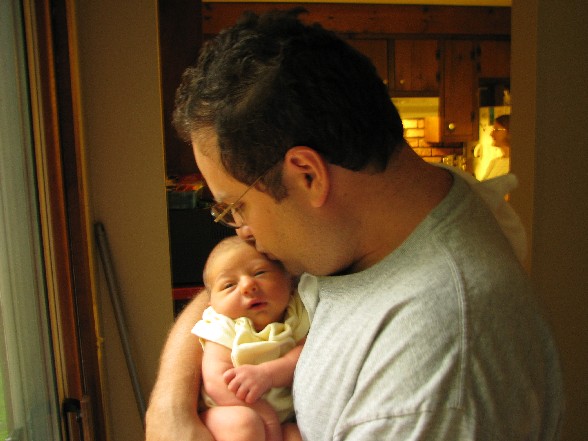 The new Zaydeh, on the other hand, dickered with the moyel over the tip.
---
Joanne, our family thespian, has leapt into the June limelight in
The Deertrees Theater season opening production of
In Good Spirits
LEFT CLICK ANYWHERE INSIDE THE PHOTO DIRECTLY BELOW TO SEE
AN ALBUM OF 300 PHOTOS OF THE SHOW
(A GIN AND TONIC IN HAND IS SUGGESTED....THIS WILL BE A LONG RIDE!)
Once you are in the album, left click on any album photo to view an enlargement.
You can save enlarged copies of your favorite low-resolution prints to your computer by right-clicking inside the picture.
If you print these photos, be advised that they are low-resolution and not suitable for enlargement greater than 5x7 inches.
* * * * * *
Joanne will be uploading the most popular 60 high-resolution photos onto the Kodak web site on July 7.
(Return to this site after July 8 to link to the Kodak high-resolution album)
Photos on the Kodak web site may be ordered FROM KODAK IN ANY SIZE and will appear much sharper.
The cast and crew may send us an e-mail nominating any 3 photos to include in this batch of 60
Simply click here and include your name and the number of each of your favorite three photos in your note
(please note that these photos will be removed from this site at the end of August, 2008)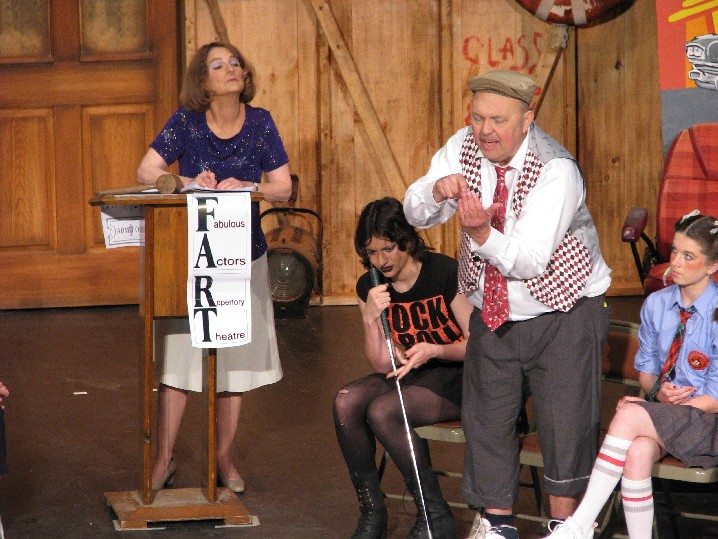 Other family news:
1. We await the delivery of grandchild #1 in late September. Laura and Nic doing well,
Joanne is having mild contractions.
2. Joanne struggles with the garden. Trifids found in the aphids, aphids found on the weeds,
and we have weeds! Not to mention SNAKES! (I though I told you not to mention snakes!)
3. Earl is designing and building a bicycle-powered lighting system for the Littlefield
Orphanage in Malawi. Phase I is completed and is being set up in Africa. Let there be 800 lumens!
4. Earl's Cold Fusion Project is going well although he's running low on ice cubes due to a gin and tonic epidemic.
5. Earl has completed his 12th article for Steamboating Magazine. Steam Geezers unite!
---
The most snowy winter ever
Starting in early December we have had one storm after another and haven't seen any bare ground since.
Here's what it looks like a couple of days ago: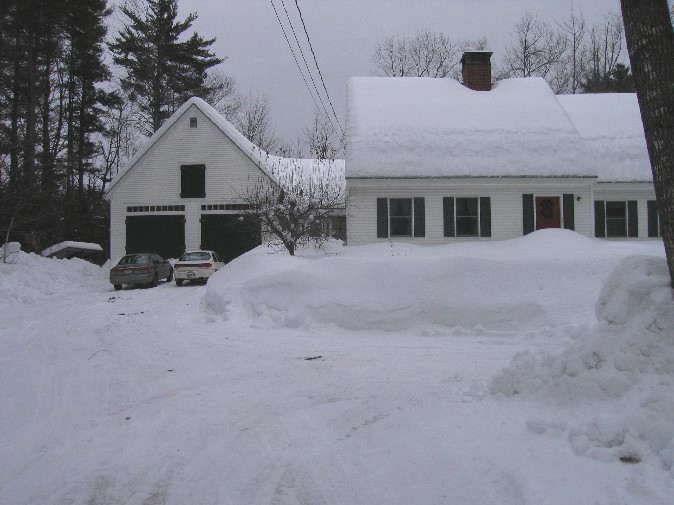 As I'm sitting here, its snowing again and we expect to add a foot to a foot and a half by morn.
I have, however, seen the first sign of Maine spring...
It's when the old car wreck we have in the yard (Maine landscaping, we call it) pushes its way up and out of the snow...
Just like them crocuses you guys have around your Yard.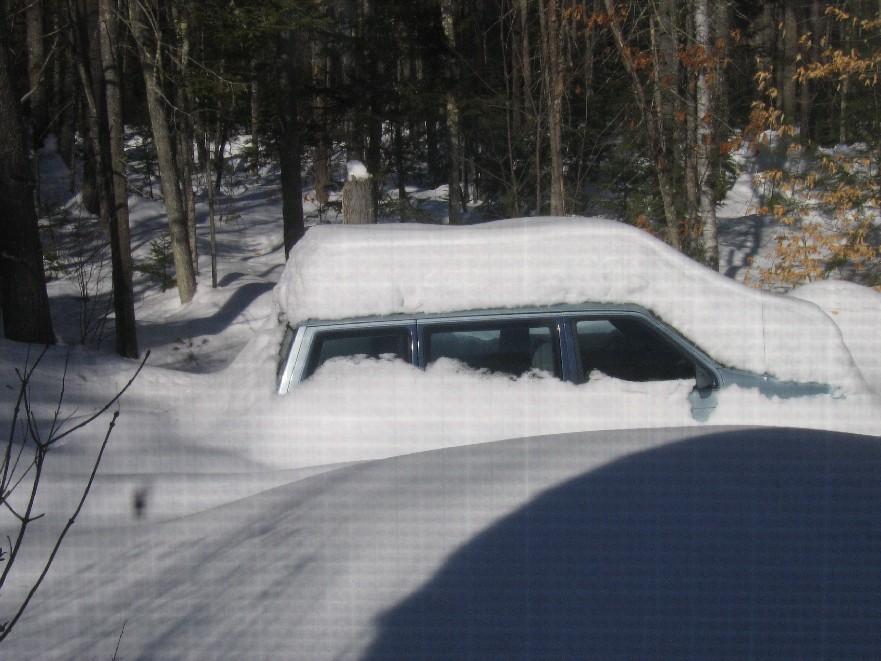 Of course, weather such as this leads to desperate measures and, on occasion, a failure of technology.
See if you can figure this out!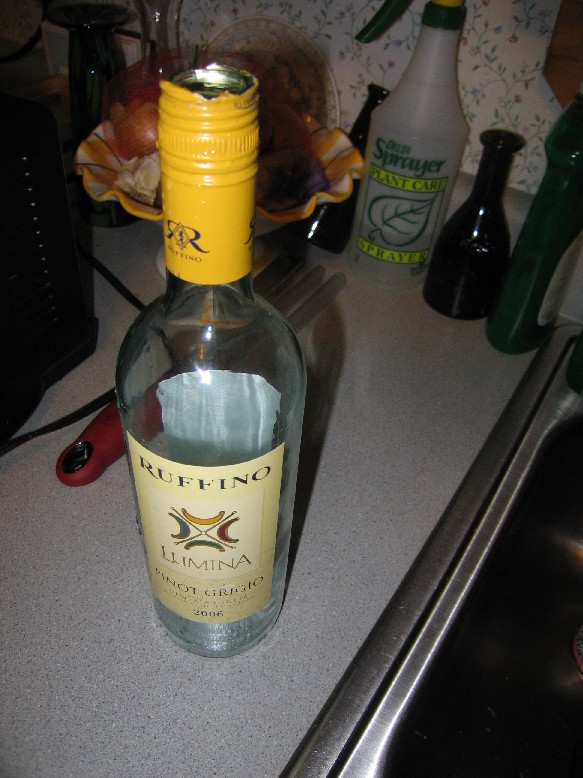 Joanne, our well acknowledged local thespian, once again wowed the troops with her great acting.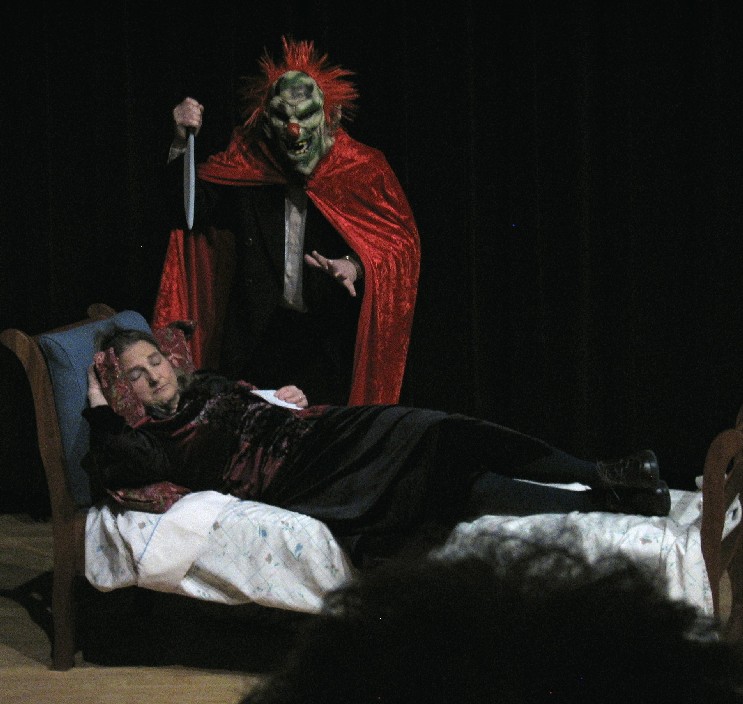 And lastly, Nic sent us a couple of pictures we thought we'd share
Just as Spring follows Winter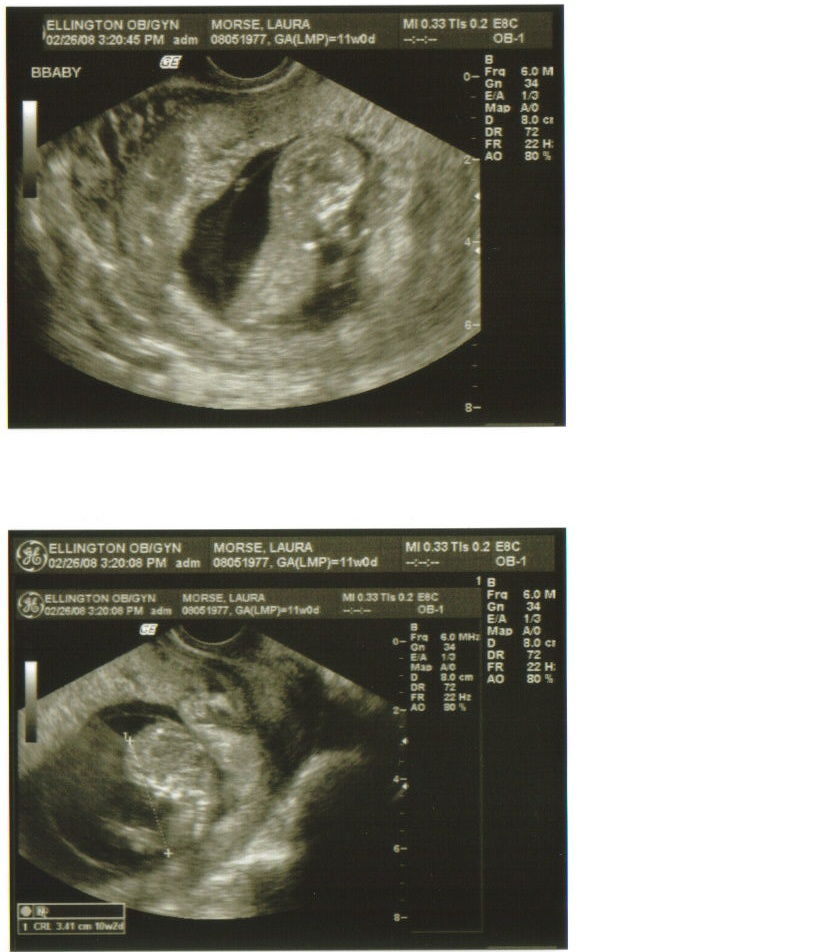 It is hard to believe that such a young couple (as us) are about to be Bobbeh and Zaydeh.
SO.....I'm going to grow a beard!!
Congratulations, Joanne!!! Oh, and Laura and Nic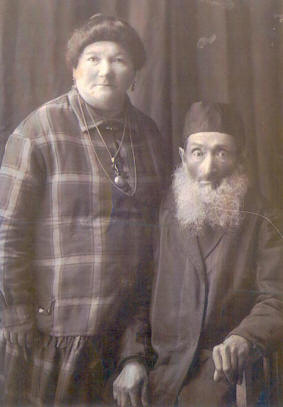 ---
Big June News
NIC AND LAURA GOT MARRIED
June 23, 2007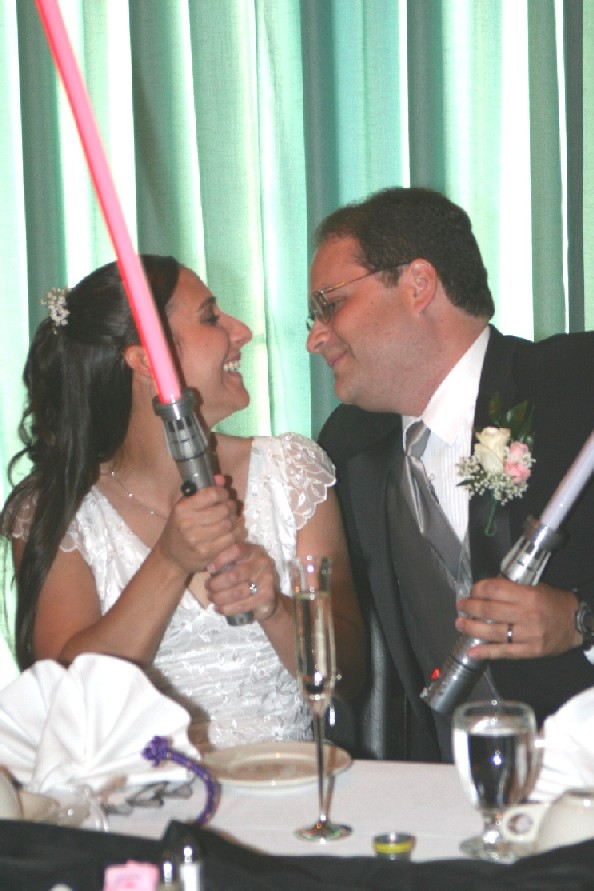 light sabers at the ready
Yup, it happened.
The place was the meeting house in Storrowton, the historic restoration
on the grounds of the Big "E" fairgrounds
near Springfield, Massachusetts.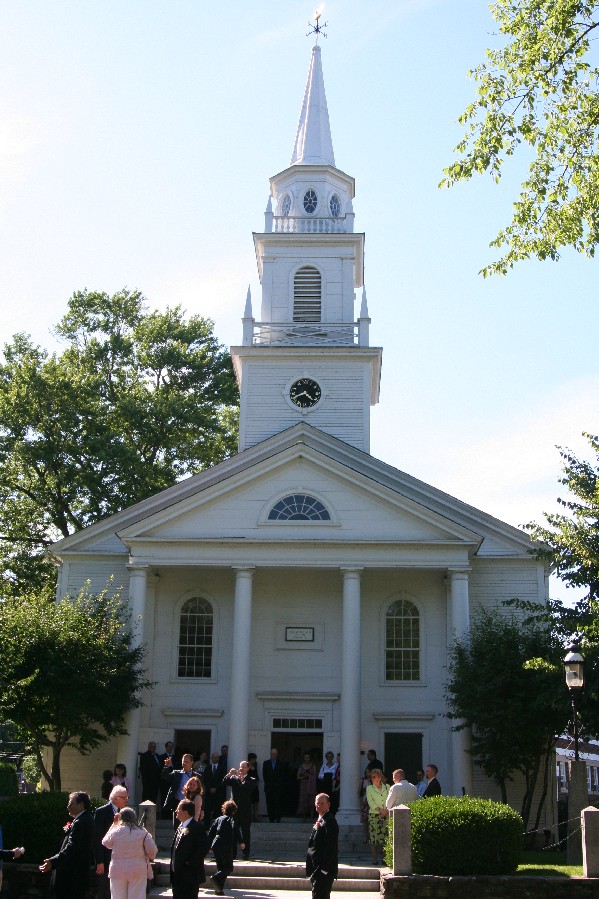 The time at the start of the ceremony was: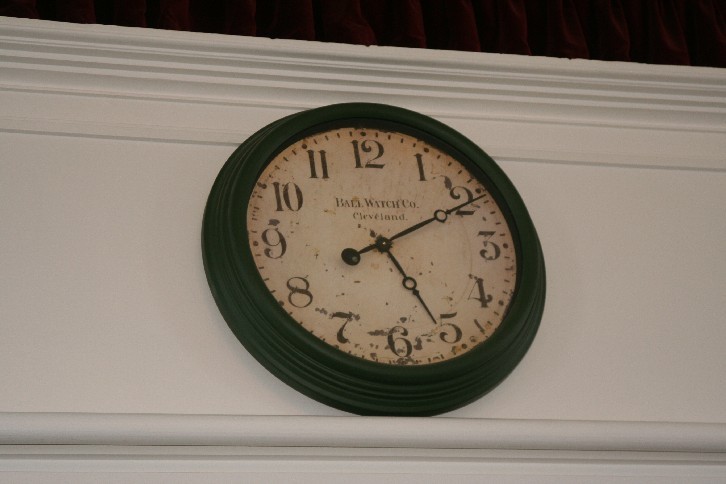 and by 5:25 they were legal.....hooray!
We have tons of pictures of the ceremony, the feast, and the honeymoon tour to Italia.
Click on the photo below to enter the wedding album.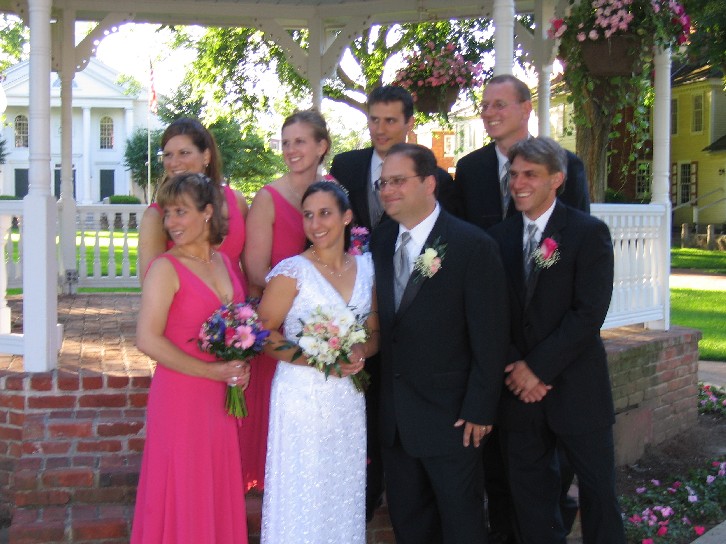 ---
February and April 2007
Our new E-Mail Address is E_J_MORSE@roadrunner.com
We had nearly tropical weather right through early January. The photo below shows our pansies in bloom on January 7th!!!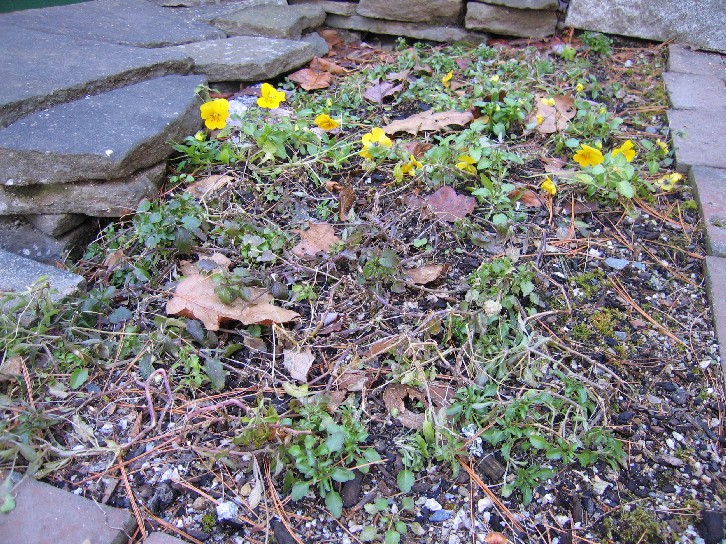 This has never happened before (in our memory, at least). Saw a guy in shorts and flip-flops at the mall, WOW!
However, we are now in our more typical deep freeze with daytime temperatures not reaching over the freezing point. Within the next couple of weeks we do expect daytime temperatures to reach into the thirties...We know this will come to pass because Longley's Hardware has just had its annual maple syruping supplies sale. Yup, you can pick up your spiles, buckets and drill bits just in time to start collecting your sap. For those of you whose only sap has a first name and is sitting on the couch watching the big game...TOO BAD! We were on the way to a record low snowfall year until a couple weeks ago when Joanne and I headed to Florida for a week to visit aunt Dorothy mid-February. That, of course, signaled the weather gods to send a blizzard...and we exited Manchester, New Hampshire on the last flight out. Our plane was coated with molasses de-icer and took to the air in a cloud of pancake syrup. Joanne and I had a wonderful week with our beloved aunt Dorothy. She was in good spirits considering all the sorrow she and her family has recently experienced. Check out more photos on our picture area.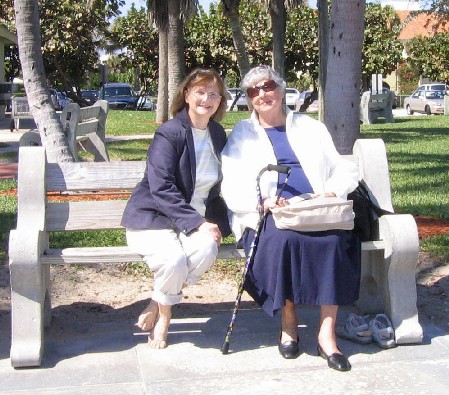 for great video of creature returning to the sea click here
(this is a large file 4+meg don't download unless you have a broadband connection)
Since returning we've had dustings of snow every few days. At the present time we have about one and a half feet on the ground. I have a feeling we will have an average snowfall year even though we only experienced both end of the weather spectrum. Tropical and arctic with nothing moderate in between.
I've started to help Al Berry on his steamboat. Right now it's in the garage and we're strengthening the hull and installing the stringers, engine mount, propshaft and boiler mount. I've written 5 articles for Steamboating Magazine and will soon begin a series of articles on building a boiler. Still doing lots of work on my own boat, too. I'm also keeping busy with the watershed management plan and monitoring.
Joanne is beginning her annual thespian activities. Hopefully she will not have the heavy acting and directing workload as last year. Check out the pictures in the Spring 07 "seasonal pictures" section.
We are looking forward to the summer and our guests. If you haven't signed up for your visit do so soon...we need the free labor.
By the way, it's now April 18th and winter has made up for the 6 weeks of tropical weather by dumping load after load of snow upon us! Still have a foot of snow around the house and the lake has yet to thaw....
---
22 September 2006
Summer is officially over and most of our guests have come and gone. Although we had a great time with all of our guests, Joanne and I are now alone enjoying the quiet and beauty of a Maine Fall with our kitties. This is my favorite time of the year. Cool, sunny days, no bugs and warm daylight tones..It just makes you want to nap by the fire and put on a good layer of over-winter fat in preparation for hibernation. In that regard, Joanne is downstairs preparing some German fruit tarts...She surrendered one of her "failures" to me and it was magnificent! So that you don't get the wrong idea, I have just spent two days preparing about 3 gallons of goulaschsuppe mit schwienefleisch. Our German-speaking group (Stammtisch) is setting up a German coffeehouse (Konditorei) mit suppe, Toasthawaii, echte Deutcher Kafee, und viele sorten suesslichkeit (mit schlagsahne, naturlich!) to help celebrate a multicultural week in Bridgton started by one of our ex-Peace Corps Volunteers.
This has been our busiest summer ever. Joanne's three performances (Blithe Spirit, Renys the Musical, and Valley Forgery) all went off beautifully and obliterated all of her free time for May June and July. She'll never pack that much in in such a short time agan, she swears. Right Joanne!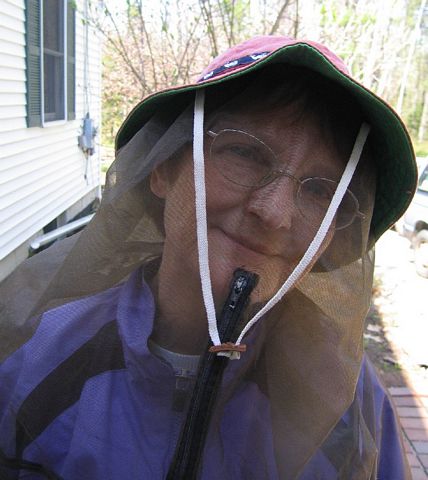 bug-ready
I had my last swim on September 19th this year. 'Twas bracing I tell ya! The boat is out of the lake and I've been trailering it to a couple of meets and some nice river cruising. Love river cruising in the fall...so slow, quiet and colorful. Probably put the boat to bed mid October.
The upstairs office/media room is almost finished. We had Lee Bradley build us a few matching cherry pieces to furnish the space. Seven pieces in all. Now all I have to do is stain the baseboards and install the wiring under them..Next I'll be able to start on the back porch, which is to become our future three season dining room. We'll try to wrap up all the building by the end of next summer.
We got to see a great bunch of folks this summer. The usual "perps" plus a few great first-time surprises. We were very pleased that our old Peace Corps colleague, Scott Wallace, came in to see us...Hillary and Sal also were great to have around, what a wonderful young couple they are, and Barbara and Bill visit was a great treat, too. I discovered a few new beautiful places by showing Bill a few of brother Bruce's fishing spots that had previously only been "X's" on the map. Barbara's art exhibition at Deertrees was strikingly beautiful and gave our Mainers a glimpse of her colorful renditions of southwestern vistas. We are delighted to have one hanging in the munchatorium.
We hope to see everybody next summer!
By the way, Bruce and Cheryl have two new kitties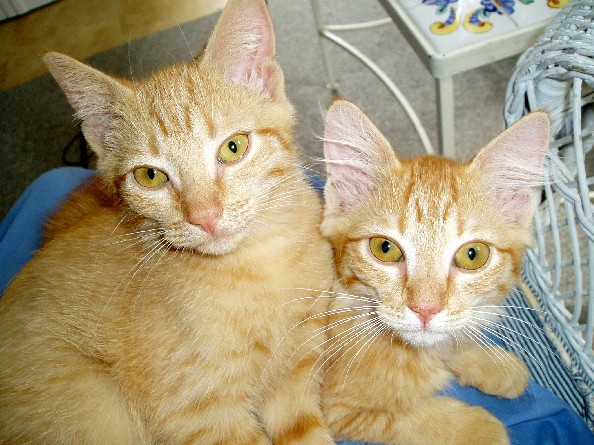 ---
March 12th 2006
Approaching Earl's 65th birthday with great trepidation. While Age seems to be treating Mikki Katz well,
Earl feels that he is getting the abbreviated end of the dowel.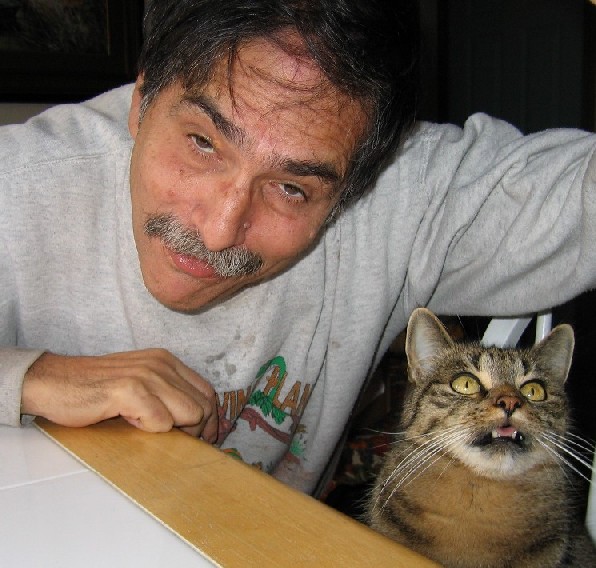 OK, maybe Mikki isn't looking that good, either.
The picture above shows Earl practicing for the "home." This shot was taken at the end of the "using a spoon" event where the final score was Spoon 4, Earl 0. Mikki tried to help, but with only 2 digits worth of neurons firing between the two of them there wasn't too much hope. The glamour of retirement is clearly illuminated!
We just returned from a whirlwind tour of Europe and Florida where we mooched off of old friends, caught up on restaurants and pastry fressing, and visited relatives. We started with a few wonderful days with Tony and JoEllen Carmone, B & B'ed in the Ardennes with the Stantons, went on to the tropics to visit aunt Dorothy and have a great day with Bruce, Cheryl and cousin Martha, our first time together with Martha in over 20 years. We hope that Martha will get a chance to visit us in Maine this summer.
Every stop was a wonderful experience. See for yourself by checking out the pictures by clicking here.
We returned home to appreciative cats and the start of a series of orienteering workshops Earl is doing for the Oxford County libraries. Joanne is embarking on a serious career on the stage with her first SALARIED position as Director of Blithe Spirit. Eat your heart out Spielberg! All in all, it looks like a very busy spring.
Joanne has done a great job of founding a Peace Corps veterans group here in Oxford County. Many wonderful articles have been written about the experiences of members of our group and published in our local weekly paper, the Advertiser Democrat, by Marc Chag. When this series of articles is complete I'll put together a web page for this wonderful group. Thank you, Joanne, for all your work. Meanwhile here's a picture.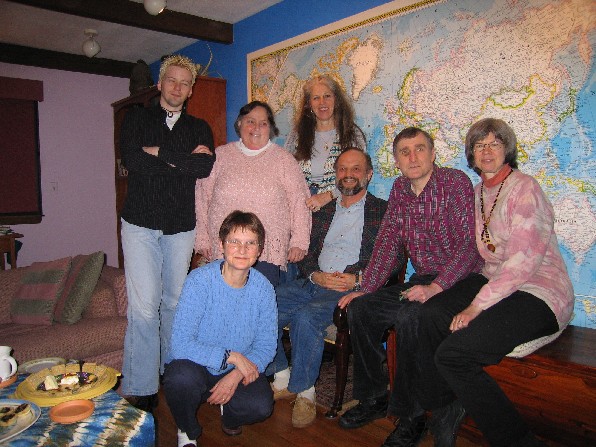 ---
January 7, 2006
Winter news as of January 7th 2006
Winter started early this year when the lake froze over on about December 8th, about a month ahead of schedule.
Nicholas wrote to say that he bought some new jewelry for Laura.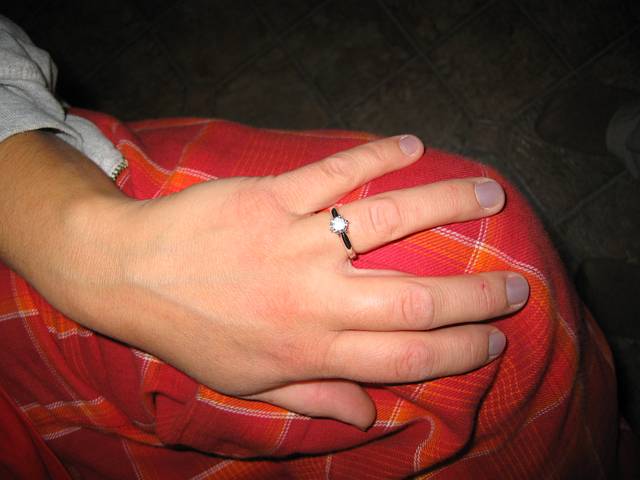 You should have heard Joanne's yipee! Ever the master of understatement, Nic had really given us a great way to end the year in celebration.
We all know you'll wish them both Mazeltov, and the best of luck for the future. Laura is a perfect mate for Nicholas and will make a great daughter-in-law (providing, of course, that her dad isn't asking too great a bride price). There's no date set for the wedding, but rumor has it that summer 07 may be the target.
The month of December ended with David and Michelle's wedding at the Edgewater in Seattle. David is Joanne's cousin, the son of her first cousin Ed Schlossberg and his wife Alice . The wedding was spectacular ending with fireworks off the Space Needle at midnght, New Year's Eve. A few pictures are available under the December 05 page of our monthly pictures. Michelle's family all pitched in to make a canopy of 1001 origami storks. What a great idea!
We visited with Judith Robertson, her son Gareth and his Daughter Oceana (Oshi). It was great seeing them all again. I just wish that we all lived closer. Pictures of this visit will appear on our January 2006 page when the month is over.
Winter is cabin fever time for Earl with lots of projects going on. Joanne is heavily involved in her usual volunteering efforts (13 different ones at this point) plus trying to organize a new Peace Corps alumni group for Oxford County. This could explain why she's so tired.
I'll be adding to this section as the winter unfolds.....so keep in touch. .......Earl
---
Old news from October 22, Autumn, 2005
It's the end of the foliage season and we're afraid that you missed all the color up here.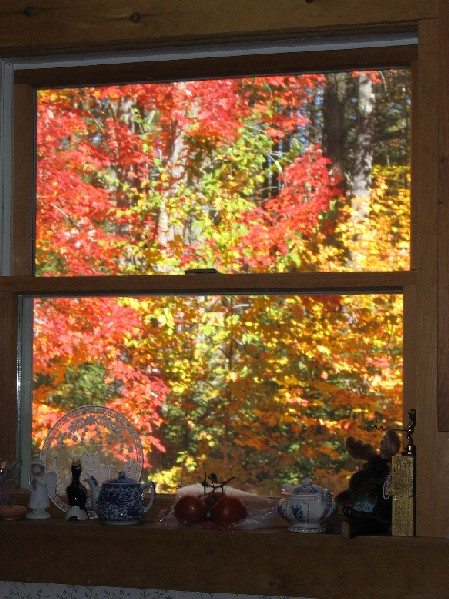 There is nothing more comfortable than Fall in New England:
Reading a good book by the radiant glow of the fireplace,
The aroma of lightly moldering leaves swishing through your pace as you walk along the path to the lake,
The smell of a neighbor's wood fire,
Being welcomed home by the aroma of a hot pie made from apples picked just up the road,
The sweet and prickly taste of slightly fermenting, unprocessed pure apple cider made from windfall apples that no one in their right mind would eat, but everyone loves to drink.
The lengthened need for an afternoon nap ( with the kitties always joining you in the experience).
I can't imagine a life without a New England Autumn! It was the season we missed most while we lived in Europe.
September is a month of old engines and steamboat meets.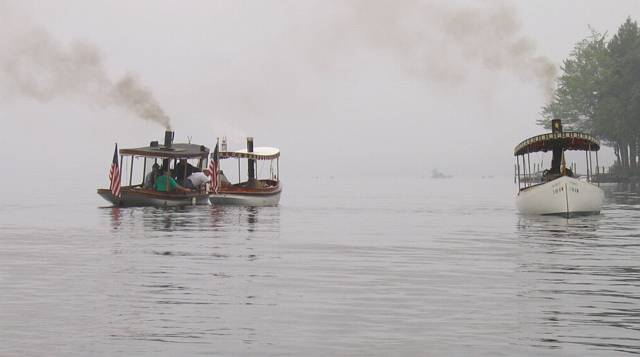 Aside from the riot of color, October is a month of working round the house preparing for winter and getting more involved in community events.
Naturally, Bruce and Cheryl showed up to help with all the work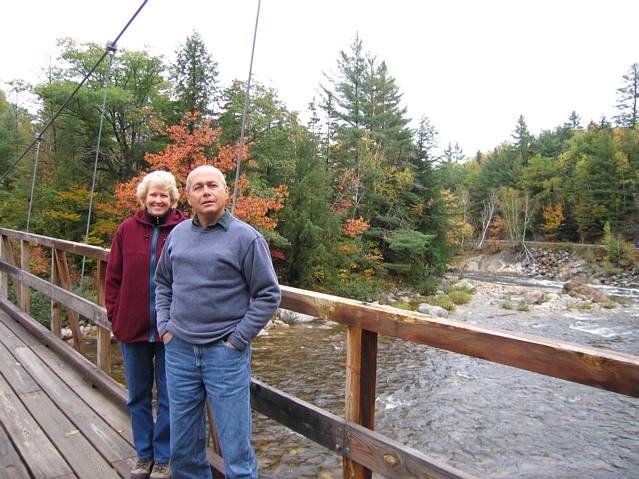 Most of the guests are gone and it's time to roll up sleeves and work. Earl is insulating the cellar (thanks brother Bruce and son Nicholas for all their help getting rolling). The cellar's already much warmer and should pay for itself pretty quickly given the current cost of fossil fuel. It's interesting to note that the cost of oil has surpassed the cost of wood for home heating....so this winter we may be using more wood than oil. The good news is that we can supply about half of our heating needs from our own renewable supplies. The house can run on wood, the boat runs on wood...now about that car?
Joanne is finishing the trim in the upstairs room and getting the garden ready for its blanket of snow. The fieldmice, chipmunks and red squirrels are trying like devils to break into the house to spend their nap time in the company of us and the cats. We had an unusually big acorn crop this fall so the woods are full of the little guys, all looking to spend time at the Morse's. I guess we'll have guests after all.
We took a few days off and headed to Quebec...what a wonderful time! It was like a little Brussels. Old buildings, great food and friendly people. With the Canadian dollar at 84 cents it was quite a bargain. It's going to take us weeks to work off the weight gain. Check out our September and October photo albums.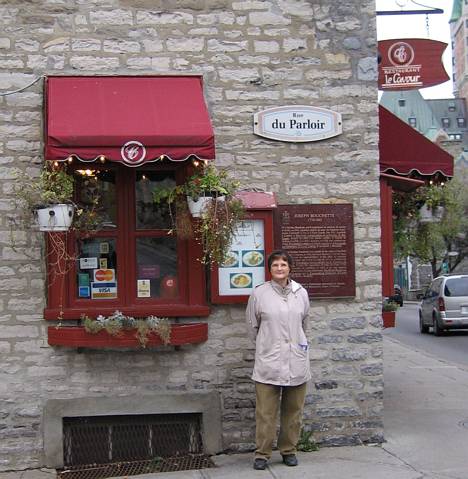 ---
Old News August 29, Summer 2005
It's nearly the end of summer and we have said goodbye to all our scheduled summer guests. We had a great time and the weather cooperated for everyone! The lake was warm and beautiful and we passed many an hour just soaking in the sunshine and cooling off, just like the local turtles. Now, however, the weather is starting to cool and the days are growing shorter.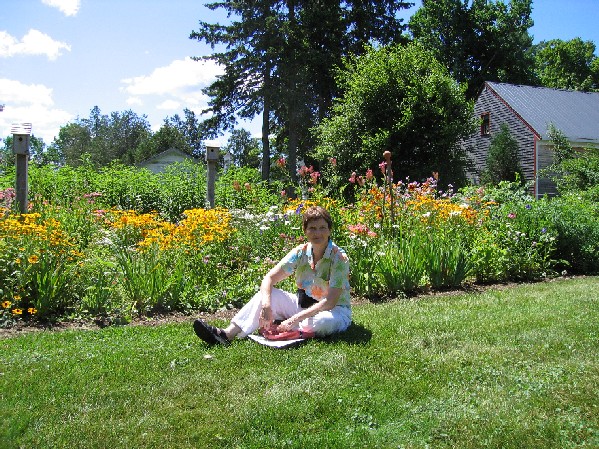 After modifying the engine bearings, the steamboat ran more serenely than ever and provided Earl with more smiles per mile, especially since we had it in the lake for a longer period of time. Earl also attended lots of antique engine shows and events and is anticipating lots more in the fall. The boat will come out of the lake in a couple of weeks in time to participate in a few shows and meets.
Joanne and Earl had an interesting time as parking attendant and usherette for Deertrees Theater (where Joanne is on the board and guess who works in the parking lot?). Did I mention that while Joanne was leading people to their seats, Earl was directing parking traffic in a downpour without an umbrella or raincoat...Baptism under water was appropriate! I guess the board members get the best jobs!
The summer was busy with dancing, music, boating, swimming and all those things we love to do. We were delighted that so many friends and family members decided to share it with us.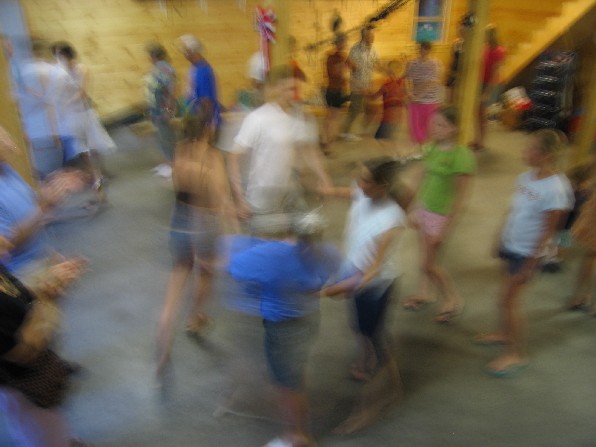 Old news of March 13, 2005. On the 8th we drove back from the Manchester, NH airport in a blizzard. No doubt this was just punishment for fine weather during our visit to aunt Dorothy in Florida. Interestingly, the same thing happened on our return from Tucson visiting Barbara and Bill just a couple of weeks ago. And GUESS WHAT? The snow today is expected to continue for another 24 hours or so by which time it is expected to dump another 1.5 to 2 feet of snow on an already deep base. The good news is that we only have one snow shovel and Joanne has first dibs, too bad about the 250 foot driveway.....YES...this is one of the major benefits of living in ski country.
Here's a shot of the house at the end of the March 13th storm. The driveway had been plowed just an hour or so before the storm ended. Joanne is in the picture shoveling. The snow is only about a foot below the windows and the windows are well over six feet from the ground. Can you spot her? (Hint: You can only see part of her majestic 5ft 2" self)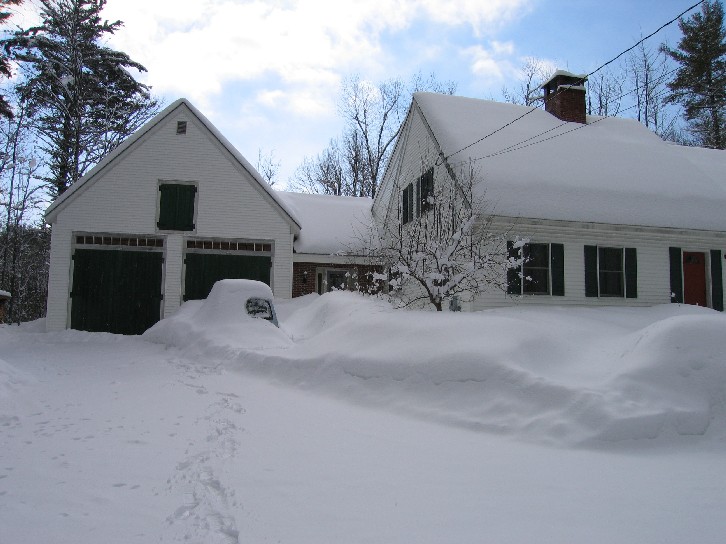 Answer below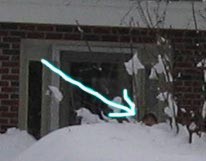 Shoveling 5 feet of snow when you're 5 ft 2" aint that easy!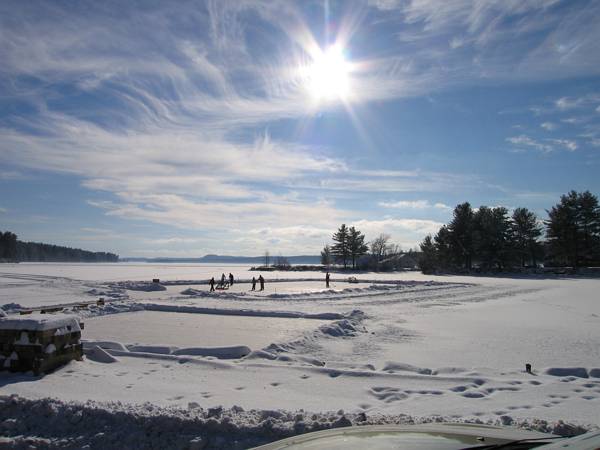 The new hockey and racing track on Long Lake. It's new every year as long as someone shovels the ice!
All is well. we're continuing to work on the house. Finally finished the heating system in the barn workshop so that I can now work on projects out there midwinter, much to Joanne's relief. Our present indoor project is finishing the entertainment/ office room. Joanne and I are painting and trimming the windows and doors. Then it's on to convert the sun porch into a 3 season dining room..It will take FOREVER, what fun!
---
Old News of December 2004
Well, it finally happened. Retirement! Joanne, Nick, and I left Pittsburgh on October second and headed to Maine. I got to drive the BIG TRUCK, Nick drove the Contour and Joanne drove the Escort. We arrived in Maine on Sunday the third and Nick, Laura (Nick's girlfriend), Joanne, Bill Roy (a neighbor) and I began the unloading process. Now, over two months later, we are almost unpacked and settled in.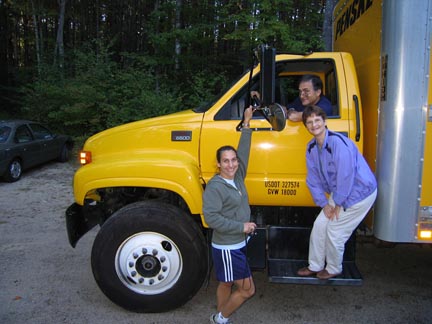 I can't really describe how different being retired is from life in the world of work. It is nice not having to get up with an alarm clock, losing track of the day of the week, not having to travel if the weather is really foul, getting to those long delayed projects, and spending 24 hours a day with the person you love the most. The negatives, so far, are: no fat paychecks, prioritizing and managing those long delayed projects, finding people to help you build, repair, paint, dealing with foul weather (snow, mud and ice), and spending 24 hours a day with the person you love the most. Joanne's remedy is that she is already very active in our community, with aerobics and other scheduled outside exercise, volunteering for the community breakfasts, membership in two book clubs, and volunteer librarian. No doubt this list will continue to grow. Joanne gets out and about quite a bit, ....I'd better get busy since most of my projects are local, working on the house, workshop and boat. I'll keep you informed.
Sometime in late January I intend to begin the reorganization of this website using a different server and software. It should be more user friendly and have lots of sections for friends, family, and steamboat fans. The name of the site may change, however.
For steamboat fans there are a few mpg videos available on the steamboating section of this site. Click on the steamboating area below.
Old news as of August 2004
We just arrived back in Pittsburgh after a few weeks in Maine. You'll find new summer pictures scattered throughout these pages. Just a few more week in Pittsburgh, then I retire, we pack up the U-Haul and head back to the Maine woods. We expect to be settled in by mid October and hope to get lots of visitors, including you. Working at Starbase Atlantis has been lots of fun, and our crew has produced an exciting and challenging science and math program for 5th graders, it's time to turn the program over to a successor and depart. I still can't believe the amount of paperwork necessary!
Thanks to all our guests who pitched in and helped get the Maine house in order. I'm specially grateful to brother Bruce and Nick for many of the jobs they did. Insulating and sheet rocking sapped a good 50% of Bruce's vacation time...what a hero!
By the way, Joanne's tooth problem seems to be resolved. She's in much better spirits, now.
This winter I hope to revise this web page and get lots of my family's old photos onto the web. If you are able I'd like to ask family members to help me identify people, places and events to caption the photos. I'd like to get this done before too long.
Since I'll be updating in a few weeks I'll keep this session short...Earl
---
Old news from June:
We are about to head up to our place in Maine for the month of July. We hope that you are going to spend some time with us cause we really would like your visit. In case you don't get a chance to join us you can visit the pictures later in the summer.
This past year has been fun. Joanne just finished a great choral concert of Broadway tunes. I was blown away by the quality of the group. Ask Joanne for a copy of the concert CD in a couple of months. She has been very busy with retired people stuff, you know, exercise, choral practice, ladies clubs etc....enough to make you gag! I can't really believe that she has turned into such a square. To counter this, I have dedicated myself to an increased level of sloth, disarray, neglect, personal greed, distain, curmudgeonality, misogyny, and intransigence. I will become an NRA member and buy a personal assault weapon...Just to ward off the Welcome Wagon lady and other evil doers..I may even register as a Republican. Now that I think of it, the attributes that I hope to attain will put me in a perfect position to be a Republican officeholder! Watch out Dubya!
While life in Pitz continues to be fun, and my job at Starbase Atlantis is still very interesting and rewarding. However, we miss the quiet solitude and potential hypothermia of the frozen North. As a matter of fact we arranged a massive 20 hour power failure yesterday just to practice cleaning out the fridge and burying the contents...So, as you can see, we are planning more and more for my retirement and our eventual move back to N.E. As a matter of fact, Joanne and I are in the process of completing our Social Security paperwork and should soon be drawing just enough to starve on. I'm hoping we'll do OK financially, but I'm practicing just in case..."Welcome to Wallmart, SCAB!" Maybe I need to work on that a bit more. It's hard to let go of old feelings.
Take care of yourselves. Write to us often and lucidly. Keep away from Enron. ...
By the way, there are instructions on how to get to Maine below.
Uncle Earl
---
Old news from February
We continue to find new and exciting places in Pitz and with every new discovery we find that it's going to be a bit harder to leave this town. This is a great music area and the concerts and jazz have been terrific. We are continually amazed at the Pitz Symphony (PSO) , even their pop concerts are spectacular! On Valentine's Day we went to hear the Westmoreland County Orchestra with a harp soloist from the PSO...spectacular. We also found a couple of new restaurants including a Greek taverna where the food and the wine are all made on the premises (tastes like a real Greek demestica red table wine). We've even found that a local motel has a great jazz Sunday brunch with a nice trio rolling out very smooth renditions of standards on guitar, base and drums.
Joanne has begun working as a substitute teacher and the demand has been overwhelming. She got nine calls in a single day last week. It must feel great to work when you want to a with whom you choose. As you can imagine, she's got a story to tell at the end of each day...But, unlike a full-time teaching job she can laugh, walk away and tell the stories. I think there's some great writing material here....Let's encourage her to put it on paper!
She's saving her sheckels to buy plane tickets sooo....watch out. She may be heading your way.
Our Starbase school year is starting to wane and, in a short while, I'll be planning our summer sessions. I can see the light at the end of the full-time employment tunnel and it's starting to look more radiant by the day. In the meantime we just got an email from Ron and Maura regarding science exploration ideas for some little kid. Eventually, you'll be able to visit the Rosie E. page and see a few ideas and, I hope, a few new pix from Ron and Maura.